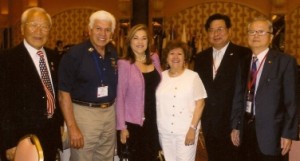 Congresswoman Loretta Sanchez, Representing California's 47th Congressional District
STATEMENT – FOR IMMEDIATE RELEASE: July 7, 2011
MEDIA CONTACT: Adrienne Watson 202-309-0825
REP. LORETTA SANCHEZ CONGRATULATES PYEONGCHANG ON SUCCESSFUL OLYMPIC BID
WASHINGTON, D.C. – Congresswoman Loretta Sanchez (CA-47) today issued the following statement following the selection of Pyeongchang as the host city for the 2018 Winter Olympic Games.
"I extend my sincere congratulations to Pyeongchang and the country of Korea for being selected to host the 2018 Winter Olympic Games," said Sanchez. "South Korea has time and time again demonstrated how dynamic they truly are through a growing economy and growing influence in the international community. In 1988, South Korea successfully hosted the Summer Olympics showcasing its extraordinary country and culture to the rest of the world. The 2018 Winter Olympics will again be an opportunity for South Korea to demonstrate their dynamic land, culture and people. This is truly a time for celebration. I have the fortunate privilege of representing a remarkable Korean community in Congress, and I know how proud and thrilled the Orange County Korean community is of this news today. Though an enormous undertaking, it is one that I know South Korea is capable of executing flawlessly."
Congresswoman Loretta Sanchez is proud to represent California's 47th Congressional District, which includes the cities of Anaheim, Garden Grove, Santa Ana, and parts of Fullerton in Orange County. She serves as Ranking Member of the House Armed Services Subcommittee on Strategic Forces and a senior member of the Committee on Homeland Security. Rep. Sanchez is also a member of the fiscally conservative Blue Dog Coalition and sits on the bipartisan, bicameral Joint Economic Committee.
# # #
United States House of Representatives
1114 Longworth House Office Building • Washington, DC 20515
Phone: 202-225-2965 • Fax: 202-225-5859