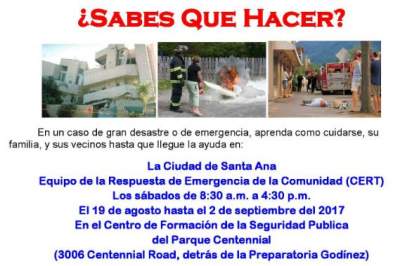 In a major disaster or emergency case, learn how to take care of yourself, your family, and your neighbors until help arrives at The City of Santa Ana – Community Emergency Response Team (CERT) program:
Saturdays from 8:30 am to 4:30 pm, from August 19 to September 2, 2017 .

At the Public Safety Training Center Of Centennial Park, located at 3006 Centennial Road, behind Godínez High School.
The goal of the CERT program is to provide residents with the information and skills to support themselves and to help others when emergency authorities can not respond or until help arrives. The course is available to all adults in Santa Ana, and to adolescents who can attend with their parents, to the full program of 8 nights.Space is limited!
The Course is free and the topics include:
Preparations for tremors and disasters
Safety fire, utilities, and extinguishers
Search and rescue
Medical assistance
And more!
Presented by:
The City of Santa Ana, The Santa Ana Police Department, The Orange County Fire Authority, and The Orange County Red Cross.
For registration and more information, contact Erika Baca at ebaca@santa-ana.org, 714-647-5062, or Melissa Ortega at mortega@santa-ana.org .
NOTE – this appears to be a Spanish language only class as the press release was only released in Spanish, here.