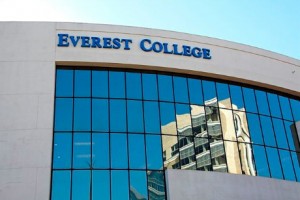 CONTACT: Ron Neal/Keemia Ferasat, PondelWilkinson Inc., (310) 279-5980, rneal@pondel.com, kferasat@pondel.com
Santa Ana Student Wins Annual Dream Award Scholarship

Denise Lobianco Earns Top Honor from Everest College for Exceptional Leadership Skills
SANTA ANA, Calif., Nov. 13, 2013 – Everest College-Santa Ana today announced that recent graduate Denise Lobianco has been awarded the 2013 Dream Award Scholarship. The Everest Dream Award, presented annually, recognizes Everest graduates who have overcome personal obstacles to persevere in their studies and find success in their chosen fields.
The award honors Lobianco for completing her post-secondary education while overcoming extraordinary challenges, including caring for her mother during a long and terminal illness. Inspired by the healthcare professionals who helped care for her mother, Lobianco realized she wanted to directly help others as well. Having been a waitress for 35 years, Lobianco was in search of a new career that would make a change in her life. Her previous work in the service industry and passion for helping others served as a solid platform for launching into the medical assistant program at Everest.
In spite of being nervous during her first weeks of school, Lobianco proved to be an exemplar student and could always be counted on to provide classroom support to fellow students in such ways as tutoring. In addition to her excellent work in the classroom, Lobianco was also a dedicated member of the Everest Santa Ana campus Ambassador program.
"Denise made a difference wherever she could on campus," said Lisa Rhodes, president of Everest College-Santa Ana. "Her strong leadership skills, commitment, integrity and drive to make things happen represent the personal and career success that is possible through post-secondary education."
As the 2013 Santa Ana Dream Award winner, Lobianco will receive a $2,500 Everest College scholarship to pursue an advanced program her field of study.
After being presented with the award, Lobianco gave an acceptance speech in which she discussed how her mother-in-law motivated her to return to school. "My mother-in-law was right," said Lobianco. "She always said that an investment in education pays the best interest. Everest helped change my life and provide me with the skills I needed to succeed in my career and life."
Lobianco said she looks forward to one day returning to Everest Santa Ana as a medical assistant instructor to educate others and make a difference in the lives of future students.
About Everest College
Everest College provides career-oriented diploma and degree programs in healthcare, criminal justice, skilled trades, business, paralegal, and information technology. Programs vary by campus. Everest College has 11 campuses in the Southern California area – Alhambra, Anaheim, City of Industry, Gardena, Ontario, Ontario Metro, Reseda, Santa Ana, San Bernardino, Torrance, and West Los Angeles. Everest has nearly 100 schools in the U.S. and Canada, and is owned by Corinthian Colleges, Inc., one of the largest post-secondary education companies in North America. For more information, visit www.everest.edu. For more information about our graduation rates, the median debt of students who completed the program and other important information, please visit our website at www.everest.edu/disclosures.
###