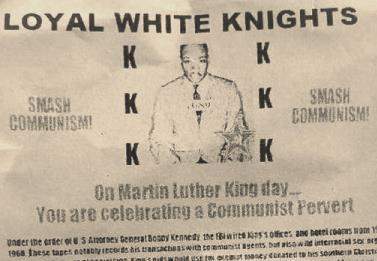 Santa Ana Police Department
Advisory: Police investigate KKK propaganda left in neighborhood
Santa Ana police officers respond to a resident who reported he found a small zip-loc baggy containing a rock, a candy, a flyer, and a KKK business card on his driveway this morning in the 2600 block of N Linwood St in Santa Ana.
The flyer contains anti-MLK propaganda. Approximately 40 similar bags were distributed sometime during the evening to various residences within a four block radius. No specific threat was noted on the business card and no crime can be established at this point.
Officers have collected numerous bags and there will be an investigation.
###