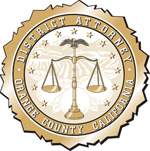 Orange County District Attorney Press Release
For Immediate Release : October 8, 2014
Case # 14HF2750
MAN ARRESTED TODAY FOR 1998 COLD-CASE MURDER OF MOTHER-IN-LAW
SANTA ANA – A man was arrested today for the 1998 cold case murder of his mother-in-law. John Edward Moll Gutierrez, 47, Santa Ana, is charged with one felony count of murder. If convicted, he faces a maximum sentence of 25 years to life in state prison. He is being held on $1 million bail and is scheduled to be arraigned in Department CJ-1, Central Jail, Santa Ana. The time and date are to be determined.
At the time of the crime, Gutierrez is accused of living in a Laguna Beach condominium with his wife and the defendant's 55-year-old mother-in-law Lillian DeVilla.
On the night of Jan. 29, 1998, Gutierrez is accused of getting into a dispute with DeVilla inside their home. The defendant is accused of getting into a physical altercation with the victim and causing her to suffer blunt force trauma to the head. Gutierrez is then accused of tying a plastic bag around DeVilla's head, removing the body from the condo, transporting the victim to a field in Laguna Canyon Road in Laguna Beach, and dumping the body.
On Feb. 4, 1998, two Laguna Beach Public Works employees discovered the victim's body while they were repairing a fence. The Laguna Beach Police Department (LBPD) began investigating the murder but the case went cold.
In 2009, LBPD began working with the Orange County District Attorney's Office (OCDA) Task Force Review Aimed at Catching Killers, Rapists, and Sexual Offenders (TrackRS) Unit and discovered additional evidence in the case.
LBPD and OCDA investigators arrested the defendant this morning, Oct. 8, 2014.
Senior Deputy District Attorney Matt Murphy of the Homicide Unit is prosecuting this case.
###
Tony Rackauckas, District Attorney
401 Civic Center Drive West
Santa Ana, CA 92701
Contacts:
Susan Kang Schroeder
Chief of Staff
Office: 714-347-8408
Cell: 714-292-2718