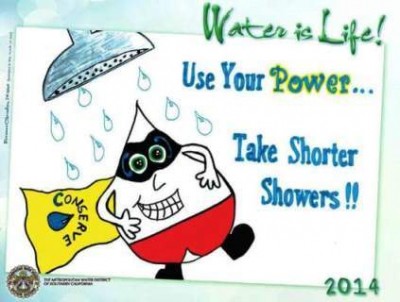 City of Santa Ana
Advisory:  Santa Ana Launches Its Annual Student "Water Is Life" Art Contest
"Water Is Life" Poster Theme Teaches Wise Water Use and Conservation
(Santa Ana, CA) April 2, 2014 — The City of Santa Ana Water Resources Division, in conjunction with the Metropolitan Water District of Southern California (MWD), is pleased to announce its annual student art contest, an educational project open to all students K-12 throughout the Santa Ana School District. Using the theme "Water Is Life," the contest is designed to inspire student creativity while reinforcing water conservation.
"The 'Water Is Life' theme is particularly timely and important for our students to remember considering our current drought conditions," says Nabil Saba, Water Resources Manager, City of Santa Ana. "This contest offers teachers and their students the opportunity to work together on a creative project while exploring ways to cut back their water use in their daily lives."
Artwork must illustrate various water uses and/or wise water uses inside or outside of the home or school, in industries or businesses, in the environment, in agriculture or in recreation. Students must submit their art on a 12 x 18 white poster board or drawing paper with a one-inch white or blank border left on all four sides. They may use crayons, markers, pencils, paints, watercolors, pastels, cut paper, or fabric to create their posters. Photography or computer generated artwork is not permitted.
Deadline for entries is May 1, 2014. Winning posters will be selected by a panel of judges based on originality, visual and word clarity, relevance to the water conservation theme, and adherence to the criteria outlined in the contest rules and guidelines. The City's top fifteen entries will then be submitted to the MWD for a second round of competition. Those winning entries will be included in the MWD's 2014 Water Is Life Student Artwork Calendar.
Artwork must be postmarked and mailed prior the deadline to: City of Santa Ana Water Resources Division, Water Quality & Measurement Control Section, 220 S. Daisy Avenue, Santa Ana, CA 92703. For further information about the contest, including all rules, judging criteria, and other prizes, please call 714.647.3320
.
About the City of Santa Ana Public Works Agency
The City of Santa Ana Public Works Agency, with its four divisions and professional staff of more than 200 employees, is responsible for the city's infrastructure and quality of life. The agency builds and maintains all public streets, storm drains, sewers, and water facilities, as well as coordinates refuse collection and recycling, street sweeping, public right-of-way landscaping, and graffiti removal. It also ensures the community enjoys high quality drinking water and is able to travel around the City efficiently through the use of a state-of-the-art traffic management system, and collaboration with neighborhood associations and developers to resolve speeding, parking, and traffic problems.