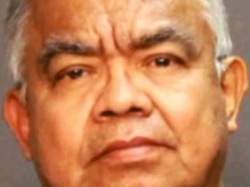 ORANGE COUNTY DISTRICT ATTORNEY PRESS RELEASE
Case # 13CF0322
Date: February 27, 2015
FOSTER PARENT SENTENCED TO 18 YEARS AND EIGHT MONTHS TO LIFE IN PRISON FOR RAPING, MOLESTING, AND ABUSING SIX GIRLS AGES 9 TO 15
SANTA ANA – A foster parent was sentenced today to 18 years and eight months to life in state prison for raping, molesting, and sexually abusing six girls when they were between 9 and 15 years old. Felipe Hernandez, 68, Santa Ana, pleaded guilty on Feb. 13, 2015, to one felony count of forcible lewd act on a child under 14 years old, three felony counts of lewd acts upon a child under 15 years old, four felony counts of lewd or lascivious acts with a minor, one felony count of unlawful sexual intercourse, two felony counts of oral copulation of a minor, one felony count of sexual penetration by a foreign object of a minor, and one felony count of possession and control of child pornography.
The defendant's wife, Maria Esther Hernandez, 61, Santa Ana, pleaded guilty to one felony count of being an accessory after the fact or having knowledge of a crime. She was sentenced on May 31, 2013, to three months in jail, three years of formal probation, and was ordered to pay restitution (Case # 13CF0803).
At the time of the crimes, Felipe Hernandez and Maria Hernandez held positions of trust over the victims. All of the acts occurred in the defendants' home.
On one occasion between Feb. 1, 2006, and March 31, 2006, Felipe Hernandez molested and raped 9-year-old Jane Doe 1 by force.
On several occasions between Sept. 26, 2006, and April 13, 2007, the defendant sexually touched 10-year-old Jane Doe 4's buttocks underneaththe victim's clothes.
On several occasions between Dec. 4, 2006, and Aug. 21, 2012, the defendant raped 11-year-old Jane Doe 3.
On one occasion between July 1, 2007, and June 30, 2009, Felipe Hernandez performed lewd acts on 14-year-old Jane Doe 6.
Between Jan. 1, 2009, and Aug. 21, 2012, the defendant performed lewd acts on 15-year-old Jane Doe 2. On multiple occasions, the defendant touched Jane Doe 2's breasts and buttocks over and underneath the victim's clothes. On one occasion, the defendant orally copulated Jane Doe 2.
The defendant threatened Jane Doe 2 that he would not provide her with any money and other privileges if she did not comply with his sexual demands and threatened to take away Jane Doe 2's cell phone and laptop.
On one occasion between Feb. 13, 2009, and Feb. 13, 2010, the defendant touched 5-year-old Jane Doe 5's genitals over the victim's clothes.
In the summer of 2012, Maria Hernandez saw Felipe Hernandez raping Jane Doe #3. Maria Hernandez then cut Jane Doe 3's hair and threatened the victim and instructed her to lie about the incident. Maria Hernandez also lied to other family members about the rape and encouraged them to repeat her lie to social workers and law enforcement.
In the summer of 2012, a family member of the defendant discovered a memory card containing a video of the defendant touching Jane Doe 2 on her buttocks and anus and reported it to the Santa Ana Police Department, who investigated this case.
Today at the sentencing, two of the victims delivered emotional impact statements to the court in which they explained how both have attempted to commit suicide as a result of the acts of the defendant, but that they were grateful to now be in a better place in their lives. One of the victims also explained that while they had forgiven the defendant, they will never forget how the defendant affected their lives.
The father of one of the victims also delivered an impact statement at the sentencing about how this case has affected his family. He said in part, "It is hard to believe that people like this exist in the world."
Deputy District Attorney Whitney Bokosky of the Sexual Assault Unit prosecuted this case.
###
TONY RACKAUCKAS, District Attorney
Susan Kang Schroeder, Chief of Staff
Office: 714-347-8408
Cell: 714-292-2718