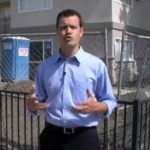 Santa Ana Councilman David Benavides said in a recent email that his recent campaign kickoff fundraiser was a big success.  City hall insiders tell me that he did indeed have a good turnout, but many of the attendees were comped, which is to say that they did not pay to get in.  My sources wonder if he raised very much money at the event.
Benavides' release regarding the event, which is below, seems to verify this insider opinion, as he makes a plea for more contributions, in advance of the pending deadline before he has to file his first campaign finance report.
Benavides does not face any challengers right now, although that could change by November.  There are whispers that many of the Council Members aren't very pleased with him and that they are searching for a new candidate to get behind.  Many of the Council Members did in fact skip Benavides' fundraiser.
Benavides has been somewhat controversial this year, or rather his city commissioners have been.  We posted an article here on this blog about the fact that most of his commissioners do not live in his ward.  And we also wrote about the rude behavior of one of those out-of-ward commissioners, Julie Stroud, from the Santa Ana Parks and Recreation Commission.
Here is the note that Benavides emailed to his supporters, regarding his fundraiser and his campaign plans:
Dear Friends and Supporters,
First of all, I would like to thank all of you who made my Re-Election Kickoff Event this past Thursday a great success. I was overwhelmed by the support extended by so many of you. Thank you!
For those of you who missed it, I invite you to take a look at a short video that we premiered at the Campaign Kickoff. We have been receiving many positive responses. You can take a look at it on my YouTube account by clicking here.
This Wednesday, June 30 at midnight marks a key benchmark in the Re-Election Campaign. It marks the end of the first finance reporting period. Friends, I could use your help to demonstrate a strong base of financial support and to ensure that our campaign gets off to a solid start and secures a win this coming November 2nd.
Would you consider making a contribution at this time? Your donation of $25, $50, $100 or any other amount would be greatly appreciated. You may make a contribution on-line through our secure link by clicking here.
I would also like to take this time to remind you and invite you to my Community Office Hours held the First Saturday of Every Month from 9am to 12pm at the South West Senior Center at Jerome Park (2201 W. McFadden Ave., Santa Ana). You can stop by this Saturday, July 3 and visit with me to discuss any items of concern, ideas, and suggestions as we strive to make Santa Ana an even better place for our children, families, neighborhoods and businesses.
Committed to moving Santa Ana forward!
P.S. Thank you for your support and contribution. Please remember that contributions are not deductible for income tax purposes and may not exceed $1,000.
P.P.S. To make contributions by check please fill out and submit the attached contribution form.
Please make checks payable to:
David Benavides for City Council 2010 – FPPC ID# 1327405
P.O. Box 3787
Santa Ana, CA 92703
To learn more about David or to volunteer, visit www.davidbenavides.com
Find David on Facebook @ facebook.com/councilmanbenavides
Find David on Twitter @ twitter.com/pdavidbenavides