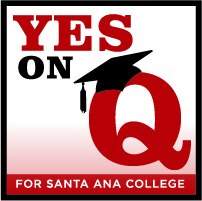 A group of Santa Ana College students are advocating for a new bond measure that is designated "Measure Q." We will be voting on this bond measure in November.
I am personally opposed to all bond measures, particularly since we already raised our property taxes twice with SAUSD bond measures and once with a previous Rancho Santiago Community College District bond measure.  
In all of those instances, the Trustees passed union-only Project Labor Agreements (PLAs) which banned non-union contractors from bidding on the ensuing construction projects paid for by the bond measures.  These PLAs wasted taxpayer resources and slowed down construction, and resulted in the hiring of out of town contractors.
It also upset me that a large part of the previous Rancho bond was used to pay for a Deputy Sheriff Training Academy that really was not needed as there are five other such centers within a half hour of Orange County, all around our County. And too much of the previous Rancho bond measure was spent on the Santiago campus, instead of spending it at the aged Santa Ana College.
The good news, I suppose, is that Measure Q is only for Santa Ana College, so this time the Santiago campus, in the wealthy Orange hills, won't be getting our tax money.
Here is the argument that the students are making for Measure Q:
Help us get the word out about Measure Q!
Like us on Facebook and find out how you can make a difference and join our efforts.
With the cost of attending the University of California and Cal State University systems becoming so expensive, many more students are attending our community college. This spike in demand is happening at a time when funding for colleges is being cut to the bone. Measure Q will ensure local students have affordable access to the education, career training and technologies they need to go to four-year universities and compete for good jobs.
All funds generated by Measure Q will protect the quality, affordability and accessibility of Santa Ana College. Join hundreds of students, staff, faculty, and community leaders in supporting Santa Ana College. Vote YES on Measure Q! This website will give you the tools to volunteer, donate, show your support for Santa Ana College and Measure Q.
Please contact us at info@campaign-for-santa-ana-college.org with any questions about how you can get involved in the campaign. For more information about Santa Ana College, visit: www.sac.edu.
Click here to see who has endorsed Measure Q. Click here to see the full text of Measure Q.