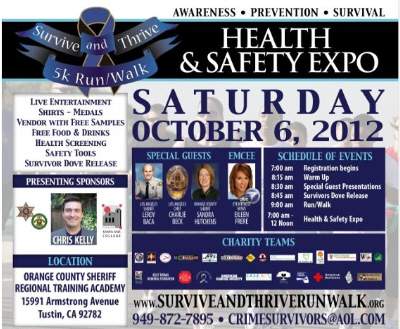 Santa Ana Police Department Community Alert: 2012 Survive and Thrive Run / Walk Health & Safety Expo
SAVE THE DATE: October 6, 2012
For more information visit the website, or the Facebook page.
Vision – Crime Survivors vision is for victims of crime to recover from their experience mentally, physically, emotionally, and financially, by receiving the respect, support, and protection from law enforcement, the judicial system, and the community.
Mission Statement – The mission of Crime Survivors is to ensure the public knows victims' rights and needs and to provide resources, support, and information to empower crime victims to survive and thrive.
Proceeds to Benefit – Monies RAISED from the Annual Crime Survivors 5k Run / Walk — Health & Safety Expo will benefit the following Crime Survivors, Inc. Programs.
• Victim Emergency Bags
• Resource Guides
• Let's meet Officer Frank Books
• What's Happening in Court Books
• Web Site
• Self Defense & Safety Classes
• Safety Kits & Safety Book
• Giving Thanks Campaign
• Thanksgiving Meal Baskets
• Christmas Meal Baskets
• National Crime Victim's Rights Week
• Awards Banquet
• Miniature Golf Tournament
• Run Walk Health & Safety Expo
• Survivors Gift Drive & Elf's Holly Day
Victim Emergency Bags
Victim Emergency Bags are provided to victims / survivors of crimes and will be distributed through Police Departments, Fire Departments, Ambulance and all medical, in addition by non profit organizations assisting victims / survivors of crimes.
For full details, view this message on the web.