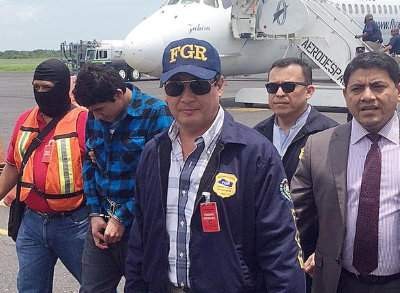 Javier Arnoldo Ceron Gomez, 21, a member of the deadly MS-13 street gang was tracked to an unnamed car dealership in Santa Ana where he worked washing cars and was arrested and departed to El Salvador on Friday, where he will face charges of being involved in the killing of a government prosecutor, according to the O.C. Register.
Gomez is one of several MS-13 members accused in the killing on March 7, 2015, of Andres Ernesto Oliva Tejada, an attorney in the homicide unit of the Salvadoran Attorney General's Office.  Oliva Tejada was parking his car when he was shot multiple times by someone on a passing motorcycle, according to Virginia Kice, an ICE spokeswoman.
Gomez fled El Salvador and sneaked into the United States illegally in April, according to Kice.  Immigration officials received a tip from Interpol that Gomez was wanted in El Salvador for aggravated homicide and might be staying with relatives in Los Angeles, on June 4.
Another suspect, Miguel Ornellana-Hernandez, 27, who Salvadoran authorities said was involved in the conspiracy to kill Oliva was arrested by the U.S. Customs and Border Protection near Laredo, Texas, in June. Ornellana-Hernandez was arrested after he swam across the Rio Grande River. He was returned to El Salvador soon after he was arrested.
Another MS-13 member, Carlos Vidal Navarro Montesinos, is in ICE custody in Texas, and yet another suspect has been detained in Maryland.