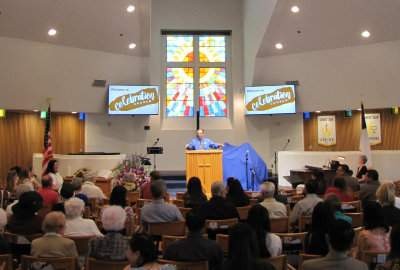 Santa Ana has a new church, called the Celebration Church.  They are celebrating a grand opening on Sunday, Sep. 13, at 11:15 a.m.  The Celebration Church is located at 555 E. Memory Lane, in north Santa Ana. They are across the street from Santiago Park, near the Town and Country Manor Retirement Center.  The church entrance is off of Lawson Dr.  The building was formerly occupied by the Community Bible Church.  That congregation appears to have moved to Huntington Beach.
Dr. Gary Tangeman is the lead pastor at this new church. He was formerly the senior pastor at Crossroads Church, in Bremerton, WA, according to Linkedin.  He wrote the book The Disciple Making Church of the 21st Century published in 1996 by Christian Literature Crusade.  Tangeman posits in this book that the church exists to glorify God by making disciples, and that pastors and lay leaders alike need to understand and utilize certain crucial principles of ministry to accomplish this goal.
Tangeman is also an Adjunct Professor at the Tozer School of Theology.  He has served in that capacity at Northwest University and the Cascade Bible College as well.  He has also been a pastor at  the Evangelical Free Church of Huntington Beach and at the Upland Bible Church.
Tangeman is assisted at the Celebration Church by Pastor Sonly Goy and Pastor Fred Chambers.
Click here for a summary of this church's beliefs. Their stated vision is to connect the unconnected, vertically to Jesus Christ and horizontally to each other. Their website states that they "exist to make more and better followers of Jesus Christ. We are striving to be an ethnically and economically diverse community of people with the same focus on Jesus Christ and on connecting the unconnected."
Service Times:
Sundays
9:30 am – Legacy Worship Gathering
11:15 am – Engage Worship Gathering
2:30 pm – Cambodian Worship Gathering
6:30 pm – Town & Country Manor  Worship Gathering
The church has a Nursery and a Children's Church and will be providing lunch after their kick-off grand opening service on Sep. 13.  RSVP to (714) 973-4644 or send an email to: office@celebration-church.com.  Follow them on Facebook here.