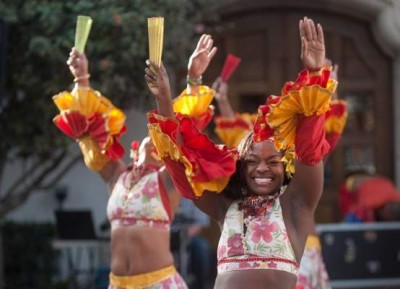 The Bowers Museum is hosting a free Caribbean Family Festival this Sunday, Sept. 6, 2015 from 11 a.m. to 4 p.m. at the Bowers Museum Margaret and Cleo Key Courtyard, located at 2002 N. Main, in Santa Ana.
The Bowers is offering free admission to the Family Festival, the Kidseum and also free admission to the Bowers Museum – for Santa Ana residents and active duty members of the U.S. Military.
The Caribbean Family Festival includes:
11 am – 4 pm Free Face painting, Foil Art and Wood Fan art projects, Frozen Tropical Fruit Bars (as supplies last)
12:00 pm UPSTREAM Welcome to the Upstream experience as they spread the message of love and positivity through the exciting musical sounds of the Caribbean, namely, Reggae, Soca, and Calypso. The band was formed in the Republic of Trinidad & Tobago in 1989 by Haille Blackman, son of the legendary Ras Shorty І, the creator of Soca music. The Lineup also includes steel drum extraordinaire, "Derek Brewstafari."
2:00 pm CARIBBEAN JEMS will wow the audience with their vibrant costumes and unique high energy dances. They will perform to music played by Upstream.
KIDSEUM is Open and FREE | Sunday, September 6, 2015 from 10 AM – 4 PM. The Bowers Kidseum is located 2 blocks south of the Bowers Museum at 1802 North Main Street
Interactive & High-tech exhibits featuring Art & Archaeology
Face Painting
Create art projects of Decorated Iguana and Jelly Fish
Join Master Storyteller, Miss Cynthia, for presentations:
10:30 am A Ray of Moonlight
11:30 am The Dragon's Pearl
12:30 pm Edward and the Dragon
1:30 pm Kraton's Labyrinth
2:30 pm The Precious Sword
3:30 pm A Special Doll
WITH PAID MUSEUM ADMISSION:
View our special exhibitions including THE 1968 EXHIBIT; ADAMS, CURTIS & WESTON: Photographers of the American West; WHERE ENDS MEET: A Retrospective of Works by Nancy Ravenhall Johnson as well as our permanent exhibitions.