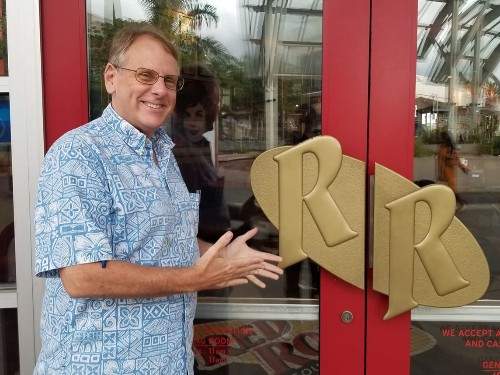 Rob Richardson, a who served on both the Santa Ana City Council and the SAUSD School Board has passed away, according to a city insider who called me this evening.
Richardson was raised in Santa Ana by his mom Marge and his grandmother. They lived in rental houses all over the city. Richardson attended our local public schools including Wilson, Willard and Santa Ana High School. In the process he developed a longstanding love for our city.
Richardson also struggled with Multiple Sclerosis for many years. It is not know yet however if that is what ultimately contributed to his passing. We do know however that he took ill back in February and was even in a coma for quite a time. He was doing well in rehab with a scheduled release date from the hospital on August 5. He came to recently and spent a lot of time calling and reconnecting with his friends, prior to his death. However he developed a very high fever on Sunday, up to 103 degrees and his pulse weakened by 5 p.m. His heart gave out at 6:15 and he passed away peacefully.
Richardson's passing marks the end of an era. He was a congenial fixture in our city for so many years and also at the County of Orange, where he was the County Procurement Officer. He was in charge of all procurement activities for the entire County of Orange and had about 250 Deputy Purchasing Agents working under him.
Richardson was a Santa Ana City Councilman from 1990-1998. He was elected a few years after Mayor Miguel Pulido came to power and they were close allies and friends for years.
In February 2003, Richardson was elected to the Board of Education following the recall of SAUSD Trustee Nativo Lopez, which made national headlines. Richards received 65% of the votes cast in that election.
Over the past couple of years, despite his poor health, Richardson was involved in stopping the 2525 N. Main St. Apartment development that he felt threatened his beloved Park Santiago neighborhood.
Rob was a master of local history and a contributor to the Santa Ana HIstory website. You can read his article about the 125th birthday of the City of Santa Ana here. Here is an excerpt from that article – From the very beginning, Santa Ana has been a place of opportunity. For the early settlers who came to the plains south of Los Angeles where roads were few and poor, the land was rich and offered a chance for farming. Beans, walnuts, and oranges were the staple crops that helped chart the area's future.
Here is a partial bio that was published back in 2008 (which I have updated to include his latest employment):
County of Orange
County Procurement Officer – Jun 2013 – Present
June 2008 to 2013 Assistant County Executive Officer
October 2003 to May 2008 – Assistant to the County Executive Officer, County Executive Office
April 2001-September 2003 – Senior Administrative Manager County of Orange/Strategic and Intergovernmental Affairs
February-March 2001 Deputy Executive Director – Local Redevelopment Authority
July 2000-January 2001 Interim Executive Director, Local Redevelopment Authority
March-June 2000 Director, Public Affairs
June 1996-February 2000 Manager, Legislative Affairs
1989-1996 Executive Assistant to Supervisor Roger Stanton
CITY OF SANTA ANA
1988-1989 Manager, Economic Development
1984-1988 Economic Development Specialist
POLITICAL
2003- Trustee, Santa Ana Unified School District
Elected 2003; He was re-elected in 2004 and 2008 to full four year terms.
President, 2004, 2006-2007; Vice President, 2005-2006, 2007-
1998-2000 Central Committee, Orange County Republican Party
1990-1998 Council Member, City of Santa Ana Elected 1990; Re-elected 1994 Mayor Pro Tem 1994-1998
1987-1990 Trustee, Santa Ana Unified School District Elected 1987 President 1987-1989; Clerk 1990
COMMUNITY SERVICE
1987-90 California School Board Delegate Assembly 2003-
1999-2003 Member, Santa Ana Planning Commission
2000-2003 Member, Historic Resources Commission
1999-2000 Member, Santa Ana Federal Empowerment Zone Board of Directors
2008 + Present Member, Cambodian Family
Board of Directors, 1988-Present Director, Boys and Girls Club of Santa Ana
President 1996-1999, 1986-1989 Santa Ana High School Centennial Committee Chairman
1985-Present Member, Santa Ana Kiwanis Club, President 1991-1992
2006-Present Member, Salvation Army Orange County Advisory Council
2005-2006 City of Santa Ana Charter Amendment Citizens' Task Force
1991-1998 Director, Transportation Corridor Agency
1993-1998 Orange County Sheriff's Department Reserve Deputy, POST Certified
HONORS
2008 Boys and Girls Clubs of America "National Service to Youth Award"
2006 Achievement Institute of Scientific Studies "Thank You Award"
2004 South Santa Ana Business Association "Person of the Year"
2002 Santa Ana Council of Arts and Culture
"Annie Award"
2001 Passkeys Foundation/Chapman University "Ethics in America Achievement Award"
2000 American Council of Young Political Leaders (ACYPL) Delegate to Moscow, Russia and Tblisi, Georgia
1999 Santa Ana Chamber of Commerce "Partnering with Government"
1993 Orange County Association of Public Administrators "Outstanding Public Official"
1993 Community Center for Mediation "Peacemaker of the Year"
1989 Santa Ana-Tustin YMCA "Distinguished Service Award"
EDUCATION
1984 B.A., cum laude, History and Political Science UCLA, Los Angeles, California
1979 Santa Ana High School, Santa Ana, California
Richardson is survived by his wife, Bella, and four children: Kaia, Cameron, Lia and Ian.
Services are pending and will be arranged by the Brown Colonial Mortuary in Santa Ana.