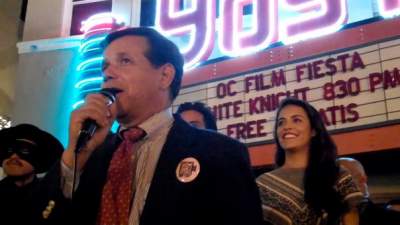 It seems like many of our readers have forgotten how much Santa Ana has improved under Santa Ana Mayor Miguel Pulido's leadership.  Rather than try to make the point myself, I am excerpting a recent article from the Santa Ana Sentinel, by Omar Avalos Gallegos:
 Editor's Desk: Why I'm Voting for Pulido
It's apparent that some people need more detailed explanations as to why Pulido should remain mayor.
People need to either A) be informed of what this mayor has done over time or B) be reminded of what this mayor has done over time.
First off, Benavides is a 'Johnny Come Lately' compared to Miguel Pulido. Heck, Benavides is a Johnny Come Lately when compared to me.
I endorse Pulido because of the progress that this city has made during his time as mayor and because of a shared ambitious vision for the future of Santa Ana. Anything else is non-progressive but instead retrogressive and conservative.
We'll start with the record:
Downtown: The Artists Village
The Artists Village alone is what is bringing people back to Santa Ana. It is said that a downtown defines a city and our downtown is in the process of an economic recovery. The cornerstone of this rebuilding of the downtown is the Santora building of the arts. And as I've already exhausted, Benavides nearly had a hand in selling it to his church.
I remember when the Santora had an independent artist for every new lawyer and independent news publication.
I remember Neutral Grounds and Morey's Deli, where Lola Gaspar now stands.
I remember the hair salon where Memphis now stands.
I remember when the Grand Central Art Center was an empty shell with broken windows and graffiti visible from the outside.
Click here to read the rest of this post.