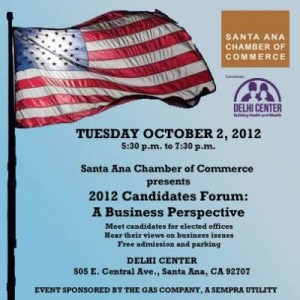 Don't miss the 2012 Candidates Forum that will be hosted today,.from 5:30 pm to 7:30 pm, by the Santa Ana Chamber of Commerce, at the Delhi Center, which is located at 505 E. Central Ave., in Santa Ana.
Think Together's Director, Randy Barth, will be serving as the forum moderator.  The forum is supposed to offer a business perspective.  
Free admission and plenty of free parking.  The event is sponsored by Sempra, the Gas Company.
What a great opportunity to ask the candidates where they stand on the anti-development "Sunshine Ordinance."  This new ordinance is a sure job-killer!
This is also a great time to ask the Benavides cabal, comprised of mayoral candidate David Benavides and Council candidates Vince Sarmiento, Eric Alderete and Roman Reyna, why they support every single tax increase measure on the Nov. ballot.  How is that pro-business?  The news media reported yesterday that our personal income taxes may rise by two thousand dollars next year – increasing our local and state taxes at this time makes no sense!  This will absolutely crush seniors and others on fixed incomes…