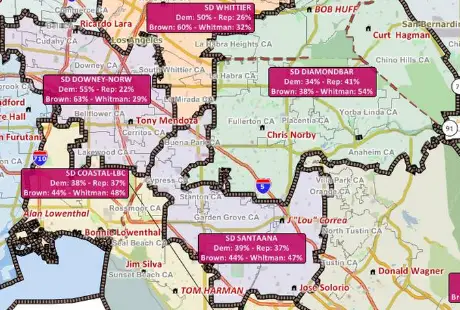 The California Redistricting Commission is considering splitting Santa Ana away from Anaheim, into two new State Senate Districts.  Currently, both of these cities are in the 34th State Senate District, which is represented by State Senator Lou Correa.
If you look at the graphic above, you will see that the new Santa Ana District will include Little Saigon and will stretch up north all the way to Buena Park.  The new District will also include Cypress and Stanton.  It will feature a close split of the voters, with 38% Democrats and 37% Republicans, putting the seat in play for the OC GOP.
The new Anaheim District will include that city plus Fullerton, Placentia, Yorba Linda, Chino Hills, La Habra and perhaps even Diamond Bar.  This seat will favor the Republicans, with a margin of 41% GOP versus 34% Democratic.
Click here for a better view of the proposed Senate Districts.
I met with Correa today and he feels that Santa Ana and Anaheim should remain in one contiguous District.  I agree.  To me this split will disenfranchise Latino voters in particular.
Click here to read about the upcoming California Redistricting Commission meeting that is coming up at CSUF.  This will be your last chance to speak up before these Districts become reality!