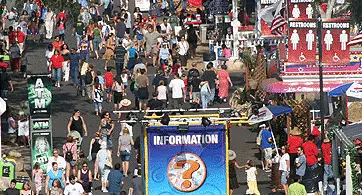 For Immediate Release: June 7, 2011
For More Information Contact: Carol Chamberlain – Office: (916) 319-2069, Mobile: (916) 804-5355
State Assemblyman Jose Solorio Issues Statement Regarding Court Decision to Stop the Sale of the Orange County Fairgrounds
Unanimous decision makes ruling very clear
SACRAMENTO, CA – State Assemblyman Jose Solorio (D-Anaheim) issued this statement regarding today's ruling in the Court of Appeal Fourth Appellete DIistrict regarding a request for an injunction to stop the current sale of the Orange County Fairgrounds. The suit was filed on behalf of State Senator Lou Correa, State Assemblyman Jose Solorio, former Costa Mesa City Council Member Katrina Foley and the Orange County Fair Preservation Society (OCFPS).
"The court's decision today is a great victory for the residents of Orange County. I hope the Governor lets us keep our fairgrounds public and does not put the fair out to bid again."
The court decision to stop the sale of the fairgrounds was based on the fact that the process was flawed and that there was no appraisal done to learn the fair market value of the property,
State Assemblyman Jose Solorio is the Chair of the Assembly Insurance Committee and serves on the Assembly Appropriations and Transportation committees. He represents the Sixty-Ninth Assembly District, which includes the cities of Anaheim, Garden Grove, and Santa Ana. For more information about Assemblyman Solorio, visit www.assembly.ca.gov/solorio.
State Assemblyman Jose Solorio represents the cities of Anaheim, Garden Grove and Santa Ana. To learn more about State Assemblyman Solorio and his legislative work, visit his official website. This e-mail communication was authorized and paid for by Jose Solorio Assembly Officeholder Committee, ID 1337257, P.O. Box 26063, Santa Ana, CA, 92799.
###