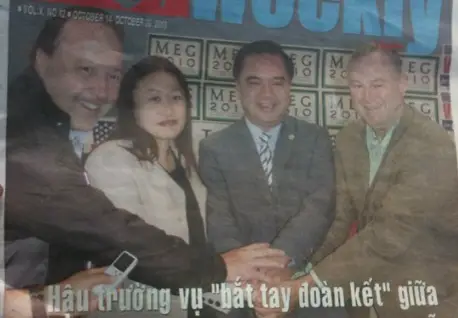 Last year former Assemblyman Van Tran and Supervisor Janet Nguyen were forced by OC GOP party leaders to bury the hatchet as Nguyen endorsed Tran in his campaign against Congresswoman Loretta Sanchez.  As you can see in the picture above, Nguyen  wasn't very excited about their deal.  Next year might be an entirely different story.
I am hearing that Nguyen is going to face off against Tran in a bloody primary battle for Sanchez' 47th Congressional District, if the redistricting that is underway gives the GOP an edge in that District.
Nguyen and Tran were once close friends – she worked for him and they even went on a double honeymoon, but they split when Nguyen ran for the Garden Grove City Council.  She told me years later that Tran tried to force her to hire his buddies to run her campaign.
Last year Nguyen's former Chief of Staff, Andrew Do, secretly met with businessman and former U.S. Marine Quang Pham.  Do was sent by Nguyen with an offer – if Pham would pay Do and Nguyen the sum of $100,ooo, Nguyen would make sure that Pham would be played up in local Vietnamese radio shows and newspapers, so he could win the GOP primary.  Pham figured he would be hung out to dry in the general, so he dropped out of the race.  Tran went on to win the primary and lose the general, to Sanchez.
Nguyen learned a lot from Tran after all.  One thing she did not learn is to be loyal to her friends.  Tran will take a bullet for his comrades.  Nguyen?  Not so much.  She dumped Do after he bungled her attempt to take over last year's Black April event, in Westminster.  Tran and his allies scuttled that effort by changing the time of her event to the morning – it turned out to be an epic fail for Nguyen.
Do recently quit the Garden Grove City Council seat that Nguyen helped him win, even though he was accused of carpetbagging.  He figured, probably correctly, that Nguyen was going to block his future attempts to ascend in politics.
Sanchez can only hope and pray that Nguyen and Tran will bloody each other in a divisive and heated primary.  She ought to go on to defeat the victor, but who knows?  A lot will depend on whether voters in her district turn out to vote for President Barack Obama's reelection.
If Nguyen leaves her Supervisorial seat, there will be a bloodbath in the Democratic Party for the now open seat.  I don't know of any Republicans who are in a good position to hold on to the seat.  Maybe that will change if the current Orange County Redistricting Commission, which is made up of the Supervisors' Chiefs of Staff, dilute the Latino vote in Nguyen's First District.
Click here to read about the upcoming Orange County Redistricting Commission meetings.