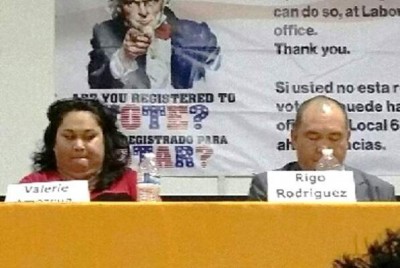 A friend of mine who is a teacher was at the SAUSD School Board candidates meeting tonight.  She said that Valerie Amezcua (pictured above) was one dimensional.  She also felt that Mike Dalati was out of his league and apparently he ducked out before the question and answer session.
Amezcua has already lost in two previous SAUSD School Board elections.  She lost by 75 votes to high school dropout Roman Reyna in 2008 and she lost again in 2012 by 537 votes to Jose Alfredo Hernandez.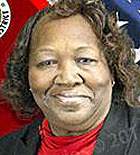 Retired SAUSD school nurse Everlena Oliver (pictured above) was good but no comparison to Shuntele Andrews (pictured below), the former Valley High School teacher who according to my teacher friend did a great job at the debate tonight. Ceci Aguinaga didn't show but I am told she is in Mexico tending to funeral arrangements for her mother.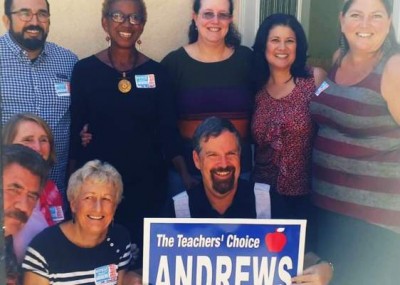 SAUSD Trustee John Palacio was pretty awful and my friend noted that "he is not a good public speaker by any means." Lastly, my friend felt that Dr. Rigo Rodriguez (pictured above) was fantastic at the debate as he was very articulate and poised.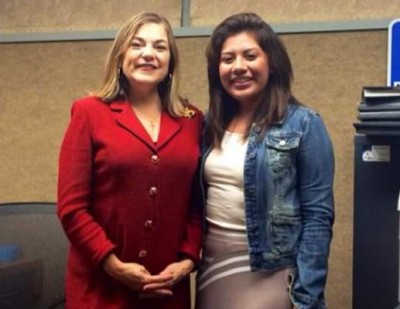 My friend was not impressed by Angie Cano but that is to be expected as unionized public school teachers tend to shy away from candidates who support parents over teacher unions.  Cano reminded the audience tonight that the SAUSD spent hundreds of thousands of bond dollars to build a warehouse (on Fairview and Civic Center) and Cano also called for term limits for School Board Trustees.  Palacio has been on the SAUSD School Board for 16 years – and many would argue he has nothing to show for that.
Cano also got some good news today as Laborers Union Local 652 endorsed her.  She has also been endorsed by SAUSD School Board Trustee Cecilia Iglesias and both the OC GOP and the OC Lincoln Club.