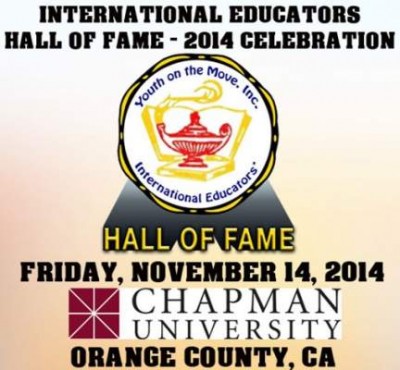 Youth-on-the-Move Education International, Inc./International Educators' Hall of Fame
FOR IMMEDIATE RELEASE: October 16, 2014
Twenty-first International Educators' Hall of Fame Awards: First in Orange County
Orange – For the first time in Orange County, Youth-on-the-Move International Educators' Hall of Fame Awards Ceremony will take place at Chapman University on Friday, November 14, 2014 at 7:00 p.m. in the Paul and Daranne Folino Theater, Marion Knott Studios, 283 N. Cypress Street, Orange, California 92866. There will be over 20 humanitarian educators honored for their impact in education. Several inductees are from Orange County and include Dr. Lawrence B. deGraaf, CSUFullerton; Barbara Hill, Santa Ana Unified School District; Dr. Kogee Thomas, UC Irvine; Mr. Sal Tinajero,Fullerton Schools; Mr. Johnny L. Williams, Santa Ana Unified School District; and among others are Dr. Erlinda Martinez, President Santa Ana College; Huell Howser, California's Gold (posthumously); The Leon Owens Foundation; Executive Chief, Ugo Allesina of Prego's Restaurant, Irvine and Dr. Bede Ssensalo, from Uganda teaching at both CSULong Beach and Cypress College.
The event is open to the public. Additional information and tickets are available at educatorshalloffame.org, at eventbrite.com or by calling 714-628-9844.
The Youth-on-the-Move International Educators' Hall of Fame project started in 1993 in Sacramento, California. Its mission is to recognize the outstanding contributions and achievements of educators who were/are pioneers, founders, movers and shakers, and survivors. Most are retired, and all possess a sense of dedication and humanity that make them exceptional in the sight of their students and peers. They are positive mentors and role models for youth.
Over the past 20 years, 600 educators from 21 countries have been inducted into the Hall of Fame. Fifteen books containing biographical sketches depicting honorees' accomplishments, turning points in life, and advice are used in schools, libraries, and other establishments to introduce students to mentors worthy of knowing. Their stories will live forever in the hearts of mankind, and, in the future Youth-on-the-Move International Educators' Hall of Fame Museum. We encourage all to come; this Orange County induction ceremony will be an intergenerational delight.
Patricia Adelekan, Ph.D., Founder
Youth-on-the-Move International Educators' Hall of Fame
P.O. Box 5983
Garden Grove, CA 92846
Phone: 714-628-9844
Email: iehof2014@gmail.com
Website: educatorshalloffame.org
###