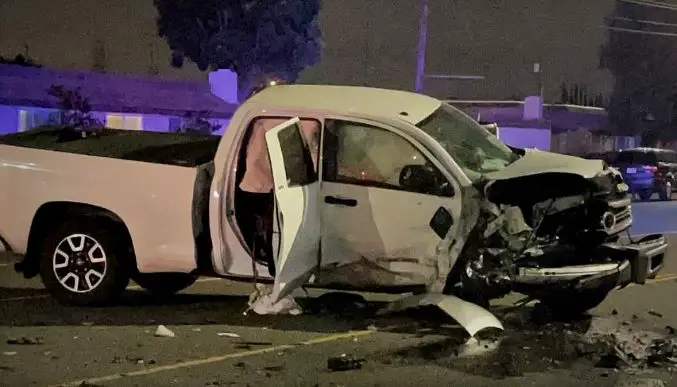 On Saturday, July 8, 2023 at approximately 8:19 p.m., dispatch received two calls regarding a male adult passed out in the driver's seat of a Hyundai Elantra at a green light at E. Katella Avenue and N. Tustin Street.
At 8:20 p.m. and as patrol officers were responding, the driver awoke and proceeded west on Katella. Between Cambridge and N. Shaffer Street, the Hyundai drifted into oncoming traffic and collided into a Toyota Tundra and a Honda Insight.
The driver and sole occupant of the Hyundai was ejected from his vehicle and pronounced deceased at the scene by Orange City Fire.
The driver of the Tundra and his 4-year-old daughter were taken to a local hospital with minor injuries. The driver of the Honda remained at the scene with minor injuries. Both of these drivers were not impaired.
At this time, it is unknown if drugs or alcohol were a contributing factor for the collision or if the driver of the Hyundai experienced a medical emergency. However, the driver does have prior arrests for DUI and being under the influence of controlled substances.
The Traffic Unit responded and assumed the investigation. Katella Avenue will be closed for approximately six hours between Cambridge and Shaffer Street. Anyone with information can contact Det. Rocha at 714-744-7342.