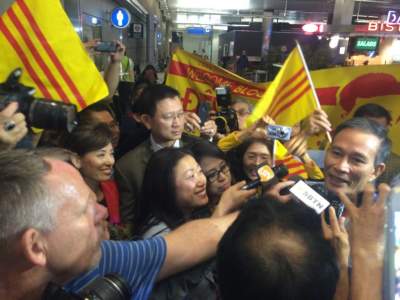 Pictured: Andrew Do and Janet Nguyen
There might be a half dozen candidates interested in replacing Supervisor Janet Nguyen in the First Supervisorial District – but make no mistake about it, this race will come to two candidates – Andrew Do (Nguyen's former Chief of Staff) and Lou Correa.
Do has already lined up the support of Supervisor Nguyen, along with Supervisor Pat Bates, Senator and Congresswoman-Elect Mimi Walters and Congressman Ed Royce. This means the OC GOP establishment is firmly lining up behind Do – not Garden Grove Councilman Chris Phan.
Correa already had about $600K in his campaign war chest – but now he also has the support of the Orange County Employees Association (the OCEA) and he has the backing of two high profile Republicans – OC Sheriff Sandra Hutchens and OCDA Tony Rackauckas.
The Special Election to replace Nguyen will be held in February, most likely, and will likely be a very low turnout election.  That favors candidates who can raise a ton of money, such as Do and Correa.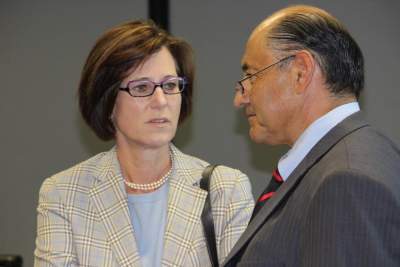 Pictured: Mimi Walters and Lou Correa – "Sorry Lou, I'm backing Do!"
Do has a significant disadvantage as his name I.D. is nowhere near that of Correa – but that won't matter in Little Saigon.  Nguyen destroyed Jose Solorio in the November General Election, when she easily won the election to replace Correa in the 34th State Senate District.  If the voters who backed Nguyen get behind Do, he will cream the rest of the Viet candidates, whomever they might be.
This race could come down to which candidate can elicit support from white voters.  That favors Do as white Republicans, in particular, are loathe to vote for a Latino.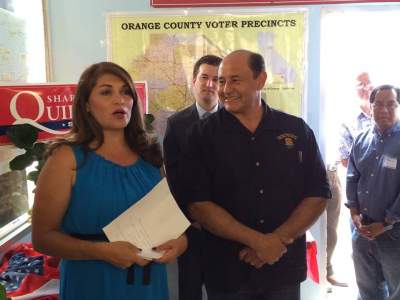 Pictured: Former Assemblywoman Sharon Quirk-Silva and Lou Correa – "I hope I don't end up unemployed like Sharon!"
It will be in Correa's best interest to pack the ballot with as many Vietnamese candidates as possible.  Nguyen and Do will no doubt put the full court press on Phan and other interested Viet candidates to drop out or face major political retribution in future elections.  This race will get ugly quickly!
So what do you think?  Do or Correa?
Loading ...