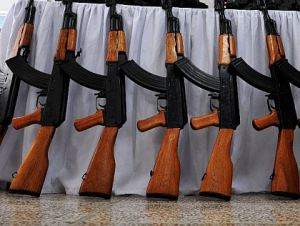 Newport Beach Police Department
FOR IMMEDIATE RELEASE, PRESS RELEASE #111814
Subject: Two Arrested for Firearms Charges
Contact : Jennifer Manzella, Press Information Officer, 949-644-3662, jmanzella@nbpd.org
On Friday, November 14, 2014 at approximately 8:48 pm, a Newport Beach Police Department Officer observed a green Dodge Caravan leaving a gas station near the intersection of Bristol Street South and Irvine Avenue with expired registration and an equipment violation. The officer conducted a vehicle stop for the listed violations, and contacted the two occupants of the vehicle (Cardiel and Gurule, listed above). The officer determined that Cardiel was driving on a suspended license and that Gurule was on probation. While being questioned, both suspects appeared extremely nervous.
Additional officers responded to the scene to assist with the investigation. A search of the van revealed that there were a total of seven AK-47 assault rifles, six 30-round high-capacity 7.62 caliber magazines, two 10-round magazines, and over 350 rounds of 7.62 caliber ammunition inside. One of the AK-47 rifles had been reported stolen in the state of Georgia. All of the rifles were modified to fire in fully-automatic mode and one had a barrel less than 16" in length, in violation of California state law. The search also revealed drug paraphernalia, burglary tools, and a notebook with identity theft information inside the van. Preliminary investigation indicated that suspects were transporting the firearms and ammunition south along local freeways when they stopped for gas in Newport Beach.
Both Cardiel and Gurule were arrested for multiple charges, including: Transporting a Machine Gun, Possession of an Assault Weapon, Possession of a Short-Barreled Rifle, Possession of High-Capacity Magazines, Possession of Stolen Property, and Conspiracy. Additional charges of Possession of a Firearm by a Felon and Possession of Ammunition by a Felon were also requested on both subjects. Cardiel was additionally charged with Possession of Burglary Tools, Possession of Drug Paraphernalia, False Evidence of Registration, and Driving on a Suspended License. Both are currently being held on $500,000 bail.
Arrested:
Andrew John Cardiel Jr., Male Hispanic, 42-year-old resident of Banning
Heather Magun Gurule, Female White, 30-year-old resident of Yucaipa
###