Paul S. Flores, the Santa Ana Building Healthy Communities, the Breath of Fire Latina Theater Ensemble, and partner organizations are presenting PLACAS: the Most Dangerous Tattoo, starring Ric Salinas of Culture Clash, from February 11-13, 2016, at the South Coast Repertory in The Nicholas Studio.
PLACAS:  The Most Dangerous Tattoo, is a bilingual tale of fathers and sons, transformation and redemption that illuminates one man's determination to reunite his family after surviving civil war in El Salvador, immigration, deportation, prison and street violence.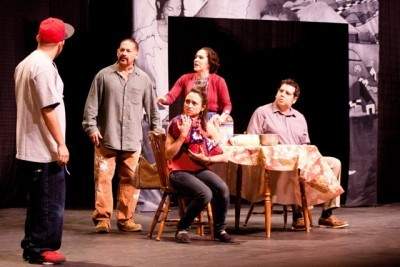 The celebrated play will make its Orange County debut on Thursday-Saturday February 11-13, 2016 brought by playwright Paul S. Flores, Santa Ana Building Healthy Communities (SABHC), and Breath of Fire Latina Theater Ensemble.  Performances take place at South Coast Repertory in Costa Mesa. The play explores many themes including: gangs, incarceration, police conduct, family restoration, and post prison re-entry. PLACAS sparks a conversation about the need to understand the realities and obstacles of affected youth and families. Tickets will be complimentary for Santa Ana residents and UCI students.
Directed by the Latino Theater Company's Fidel Gomez, PLACAS (barrio slang for body tattoos) stars Ric Salinas, a founding member of the critically acclaimed performance group CULTURE CLASH, as Fausto "Placas" Carbajal, a Salvadoran immigrant who tries to reclaim his family while letting go of his gangbanger past.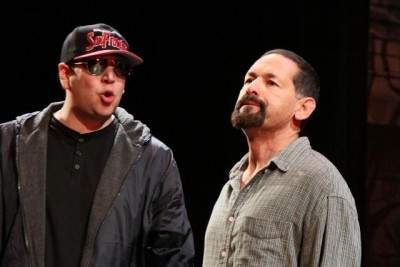 PLACAS is written by acclaimed spoken word artist Paul S. Flores. Flores interviewed more than 100 gang members, parents and intervention workers in the Bay Area, Los Angeles and El Salvador to develop material for the script. Salinas' role of Fausto is loosely based on the experiences of ex-gang member Alex Sanchez, founder of the Los Angeles based violence prevention non-profit Homies Unidos.
"The PLACAS play conveys a powerful message that second chances through an Restorative Justice (RJ) based process of accountability are possible and more importantly that RJ as a process and as a practice will transform the school-to-prison-to-deportation pipeline and the way our communities think about and collectively walk towards Justice." – Abraham Medina, Program Director Santa Ana Boys and Men of Color
This is a limited engagement. Other actors in the cast include Ricardo Salinas, Zilah Mendoza, Xavi Moreno, Sarita Ocón, Eric Aviles, Emiliano Torres and Edgar Barboza.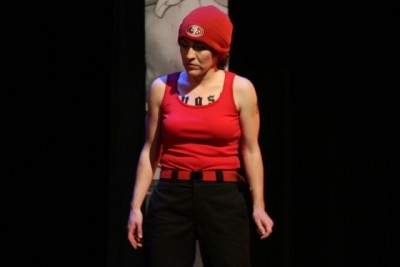 The performances will start at 7:30 p.m. at 655 Town Center Drive, in Costa Mesa.
Event parking in structures is $10 cash only. The parking structure is not owned or operated by South Coast Repertory.
Click here for $10 BrownPaperTickets. Free for all Santa Ana residents and UCI Students.  Reserve free tickets here. Recommended for ages 12 and up.
A very special THANK YOU to South Coast Repertory (SCR) for providing The Nicholas Studio to host the PLACAS production!
ABOUT PAUL S. FLORES
Poet, performance artist, playwright, and spoken word artist Paul S. Flores explores the intersection of urban culture, Hip-Hop, and transnational identity rooted in his growing up in both Chula Vista, CA and Tijuana, Mexico. His theater works include the play PLACAS: The Most Dangerous Tattoo (2012), a bilingual tale of fathers and sons, transformation and redemption; the solo performance You're Gonna Cry (2011); and the two-hander REPRESENTA! (2007). He is a 2015 Doris Duke Performing Artist Award winner, 2014 KQED Hispanic Heritage Local Hero, and 2011 San Francisco Weekly Best Politically Active Hip-Hop Performance Artist. Support for his work also includes the National Performance Network Forth Fund Award (2014) and NPN Creation Fund (2012), an NEA Theater grant (2013), and a National Association of Latino Arts and Cultures Fund for the Arts Individual Artist Award (2009). As a co-founder of Youth Speaks, he has introduced spoken word to hundreds of thousands of youth all over the country, and has developed a national platform for young people through the Brave New Voices: National Teen Poetry Slam, seen on HBO. He teaches Hip-Hop Theatre and Spoken Word at University of San Francisco. See more
www.paulsflores.com
SANTA ANA BUILDING HEALTHY COMMUNITIES
Santa Ana Building Healthy Communities (SABHC)  is committed to addressing health inequities and improving opportunities to create a healthy, thriving Santa Ana. SABHC understands that health is directly shaped by the circumstances in which people are born, raised, live, and work. Improving these circumstances is a collective responsibility and one that must be led by those directly affected.
Residents, youth, and organizations collaborate in three workgroups called: Equity for All, Health for All, and Restorative Justice. Each workgroup seeks to achieve systems and policy changes that advance human rights, such as: improved health, safety, youth development, education, economic development, land use, and community engagement. http://www.sa-bhc.org/
BREATH OF FIRE LATINA THEATER ENSEMBLE:
BOFLTE is the only Latina theater company in Orange County. Based in downtown Santa Ana—the corazón of the county—Breath of Fire came into existence ten years ago to support the work and enrich the lives of Latinas in the performing arts, who lack representation, opportunities and leadership roles in traditional arts communities. In that time, it has produced more than 20 world premieres. OC Weekly and the
Examiner.com
named its production of Digging Up the Dirt (co-produced with See-what) to its Best of 2010 lists, and OC Weekly calls the ensemble "a theater that cares [about] its surrounding community…producing vitally relevant and topical work."
www.breathoffire.org
MORE ABOUT PLACAS:
In street culture, placas signify an individual member's unswerving loyalty to the gang and also serve as a mechanism to create a new identity. Using Fausto's tattoos as a metaphor, PLACAS explores the process of tattoo removal as one possible path for former gang members to move forward. Laser tattoo removal is a complicated and painful procedure that can take years to conclude, and it is especially risky for ex-gang members because their former comrades see it as betrayal and may target those who seek treatment. Partly because of this risk, gang prevention workers, police, probation officers, judges and caseworkers see tattoo removal as a legitimate step gang member can take toward reintegrating into civil society.
Salinas, who was born in El Salvador, said of the play, "Living in San Francisco in the 1980s, a time when the war sent many refugees to places like San Francisco's Mission District, I saw first-hand how this wave of immigrants impacted the neighborhoods and how the realities of trying to adapt to living in the U.S. impacted Salvadorans. I was almost killed trying to prevent gang violence in front of my home in the Mission, so it is something I have first-hand experience with. I agreed to play Fausto because I'm hoping that by telling his story, it will allow audiences, old and young, to experience and learn about the consequences when loved ones become caught up in gang activity."
"What a gang member has to go through to be human is huge," Flores explained in an interview with the San Francisco Chronicle. "There's a mangled sense of identity, of life outside the gang clashing with the code of the gang. How do you recover from that? How does a man like Fausto recover his humanity after a lifetime of war and violence?"
PLACAS was first produced at the San Francisco International Arts Festival in 2012, and has since traveled to over a dozen cities including Los Angeles, Washington DC and New York. Co-commissioned by four nationally respected Latino arts organizations (MACLA, Su Teatro, Pregones Theatre Company and GALA Hispanic Theatre) through the National Performance Network, PLACAS was developed with the Central American Resource Center (CARECEN) as a pro-active community response to the issue of transnational gang violence, presenting positive elements of Central American culture in the context of a hostile, anti-immigrant political environment.
PLACAS 2016 California tour is sponsored by The California Endowment Center for Healthy Communities, The National Compadres Network. This project was made possible in part by the Doris Duke Performing Artist Awards program.
####