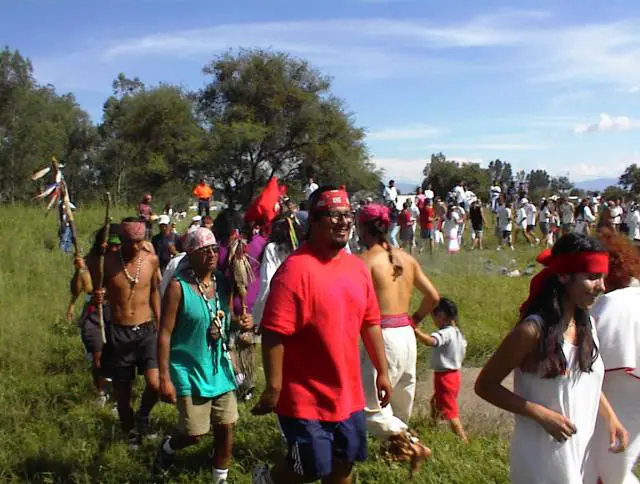 From: OC Gente
The Orange County Peace & Dignity Run will be held on Saturday, January 22, 2011 at Lemon Park in Fullerton. Beginning with a sunrise ceremony guided by the respectable Mayan elder Josefina Gallardo at 5:00 am. The dedication is to honor elders, traditional people and remembering all of our indigenous ancestry. The run is scheduled to begin at 9:00 am following the sunrise ceremony.
The Peace & Dignity Run promotes higher levels of consciousness in our communities. Determines mental discipline through spiritual runs to help acquire inner peace, harmony and serenity. The run is also promoting peace, justice, respect and dignity between all sacred people.
Acknowledgements of thanks go out to first nations indigenous people of Orange County, California. Then there are all the peace and dignity journeys and runners from 1992 to present day. A special thanks to the respectable Hamilton family of the Cahuilla people for the hard work, preserving the sacred staffs and providing them for the ceremony.
The run will be ending at Walker Elementary parking lot in Santa Ana. The closing ceremony is scheduled to include a Native Mexika Aztek dance circle "Kalpulli Anahuak Teotihuakan" where dancing and praying will commence. It will be a tribute to show gratitude to the creator and the elements that give us life. It will be a celebration of the wind, fire, water to honor the sacredness of mother earth.
For further information please contact:
Chua: (714) 206-0826
Gigi: (714) 586-3046
Huitzil-Ocelotl: (714) 603-8709
http://www.peaceanddignityjourneys.com