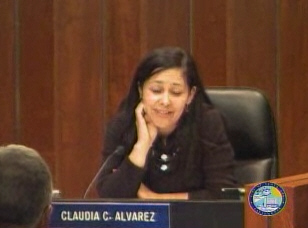 Santa Ana Mayor Pro Tem Claudia Alvarez tried her best to stop the PBID (a property tax in Downtown Santa Ana that is used largely to promote bars and restaurants and to maintain and secure the area) at Monday night's Santa Ana City Council meeting, but she could not muster any support from her colleagues.
Instead, "The issue will be taken up again in May, according to Councilman Sal Tinajero, who told the Voice of OC "because the city should be allowed to consider dismantling the district without threat of litigation at that time. The law governing the district requires council members vote annually on whether to continue the district."
Some folks are trying to make it sound like the Council is now at odds but the reality is that while some of them are upset with Alvarez, for putting the PBID motion on the agenda despite the lack of support from her colleagues.  But they aren't going to dump her.  They will work it out and move on.
Downtown Inc., which administers the PBID, has to get their house in order.  They need to take a hard look at their Board and the rules they use to select Board members.  They need to reconsider how they spend the money they take in.  And they need to dump Irv Chase's promoter, Archer Altstaetter, who continues to go after Alvarez on his Facebook page.
May will be here soon enough and if the Council allows a new vote to go forward the PBID is destined to die.