Former Santa Ana mayoral candidate Thomas Gordon really hates graffiti but can graffiti also be a form of artwork? Gordon is upset because artists are using the Blue Lot, in Downtown Santa Ana, to practice graffiti style art.  Here is an email he sent to the folks at the Santa Ana Citizens Yahoogroup on the subject:
Have any of you seen the Blue Lot located at the corner of First & Bush?
It's a spot for fans of graffiti to practice their "art" that eventually winds up costing Santa Ana taxpayers millions a year to clean up city wide.
A recent OC Register story stated "Santa Ana budgets nearly $2.4 million for graffiti abatement – twice as much as it spends to improve parks where children play." That's shameful.
I've spoken before Santa Ana City Council regarding this issue and was promised that I would be contacted and that this issue would be addressed, but as of this writing I've heard from no one and the graffiti remains.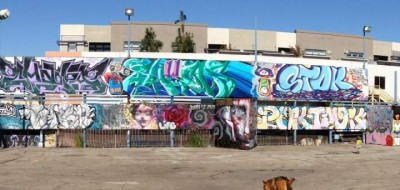 The graffiti continues as pictured above.
Why isn't the City of Santa Ana cleaning up this "legal" graffiti practice area and advising the property owner to  discontinue the use of his property as place for graffiti to be practiced and displayed?
Residents have in the past and continue to list graffiti blight as a major issue facing Santa Ana.
So why is the City of Santa Ana now considering using taxpayer dollars to fund and promote the above pictured Blue Lot as a community art space and event venue?
http://www.ci.santa-ana.ca.us/strategic-planning/community-workshop/documents/20131123_pm_arts_and_culture.pdf
Graffiti isn't art very often and even considering using taxpayer dollars to fund or promote this is shameful and a waste of taxpayer dollars.
Please send me a quick reply to this email to this email to let me know you still support a graffiti free Santa Ana or contact me for any media inquiries regarding this issue.
Respectfully,
Thomas Anthony Gordon
714-679-3396