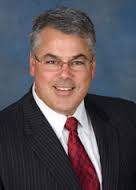 FOR IMMEDIATE RELEASE: Jan. 13, 2014
FOR MORE INFORMATION: Joel Zlotnik (714) 560-5713/Eric Carpenter (714) 560-5697
Supervisor Shawn Nelson Selected as OCTA Board Chairman
Director Jeffrey Lalloway will serve as vice chairman of the board
ORANGE – Orange County Supervisor Shawn Nelson was unanimously selected today as the new chairman of the Orange County Transportation Authority Board of Directors.
Nelson, who is also the Fourth District Supervisor, served as the OCTA board's vice chairman for the last year. He replaces outgoing Chairman Greg Winterbottom, who remains on the board.
"I'm thrilled to lead an agency dedicated to helping sustain and improve mobility for Orange County residents, workers and visitors," Nelson said. "It's an honor to be chosen by my peers on the board to help guide those efforts to keep Orange County moving, whether it's by bus, rail, car or bicycle."
Nelson, a resident of Fullerton, is an attorney by profession and has more than a decade of political experience since being elected to the Fullerton City Council in 2002. He served as mayor of Fullerton in 2004-05 and 2006-07.
He was first elected to the Orange County Board of Supervisors in 2010 and currently serves as the chairman. He has been a member of the OCTA board since 2010 and an active supporter of a wide range of transportation projects, including leading an effort to improve bikeways in the county.
He has served on the Southern California Regional Rail Authority (Metrolink), the Transportation Corridor Agency, Orange County Council of Governments and the Southern California Association of Governments, among other agencies.
Chairman Nelson and his wife, Sharon, are parents to three children and are very active in youth sports and charitable efforts in North Orange County.
Replacing Nelson as vice chairman is Director Jeffrey Lalloway, who is a member of the Irvine City Council. He joined the OCTA board in January 2013.
Outgoing Chairman Winterbottom congratulated Nelson on his selection, saying: "I want to thank the new chairman for his service this past year as he helped me navigate a number of challenging issues and I know the agency will be in good hands under his leadership in 2014."
Also sworn in as a director today at the first board meeting of 2014 was Anaheim Mayor Tom Tait, who has served on the Anaheim City Council since November 2010 and previously served in Anaheim from 1995-2004.
# # #