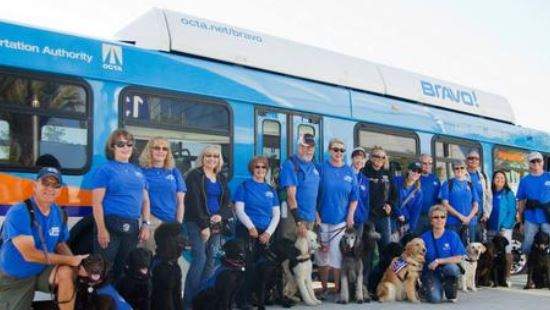 ORANGE – Whether it's the loud pop of a car engine, the screech of a car tire as it hugs a turn, or a group of teens talking loudly as they wait to board an OC Bus, the streets of Orange County can be full of distractions for a service animal trying to stay focused.
That's why the Orange County Transportation Authority once again is proud to host a day of free service-animal training aboard OC Bus, from 8 a.m. to 1 p.m. on Saturday, Oct. 2.
During the training, service and therapy animals are welcome to ride special OC Buses for free between the Anaheim-ARTIC Metrolink station and stops at Downtown Disney and GardenWalk shopping mall in Anaheim.
A roundtrip training bus will depart every 20 minutes, allowing trainers to ride with their animals to practice boarding, riding and exiting the bus. Trainers are encouraged to ride multiple times.
"Service dogs are more than just companions, they provide essential support to individuals with physical or mental disabilities," said OCTA Chairman Andrew Do, also Chairman of the Orange County Board of Supervisors. "The OCTA Service Animal Training is a unique opportunity to help service animals in training get a real-life experience in a transit environment."
The event begins at 8 a.m. at the Anaheim Regional Transportation Intermodal Center (ARTIC), 2626 E. Katella Ave. in Anaheim. Free parking will be available in Lot A. Trainers and their animals are also welcome to ride a Metrolink train to the event, though standard Metrolink fares will apply.
Program alumni and friends and family are all invited to attend. Registration is available in advance or at ARTIC on the morning of the event, starting at 7:30 a.m.
For more information, visit www.octa.net/bus/promotions/service-animal-training.
About OCTA: The Orange County Transportation Authority is the county transportation planning commission, responsible for funding and implementing transit and capital projects for a balanced and sustainable transportation system that reflects the diverse travel needs of the county's 34 cities and 3.2 million residents. With the mission of keeping Orange County moving, this includes freeways and express lanes, bus and rail transit, rideshare, commuter rail, environmental programs and active transportation.