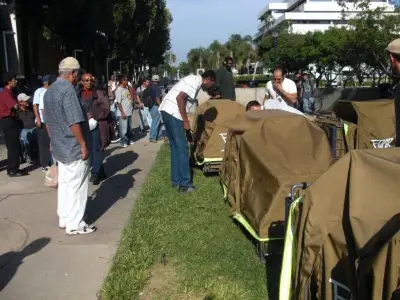 The Santa Ana Planning and Building Agency fired back today at those who are trying to force the City of Santa Ana to turn the vacant OCTA terminal building into permanent housing for the homeless.   The Planning Agency  sent a memo to City Manager Paul Walters, that you can read here, explaining in great detail why this is a very dumb idea.  Walters, in turn, sent that memo to the Orange County Board of Supervisors.
The memo makes it clear that the City of Santa Ana wants to do its share to end homelessness, but the OCTA bus terminal building simply is not an appropriate place to shelter the homeless, for a number of reasons, including:
The suggested usage does not conform to the City's General Plan – or zoning
The required building code upgrades would be very costly and challenging
Housing the homeless in this building will not improve conditions in the Civic Center
The housing plan will jeopardize pedestrians
Santa Ana Blvd. is already a barrier to pedestrian traffic from the Civic Center to the Downtown area
Community and business input has NOT been considered by the County of Orange
Again, click here to read the Planning Agency's memo.