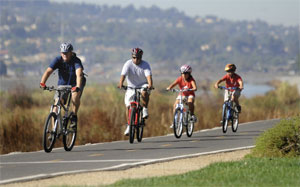 The OCTA's Bicycle Corridor Improvement (BCI) Program 2012 Call for Projects is a $9 million bicycle program available to local Orange County agencies. The guidelines and application are provided below. Eligible applicants must submit project proposals by 4:00 p.m. on April 30, 2012.
There is word on the street that a non-profit bike organization that supports bike trails in Orange County is going to file the necessary paperwork to complete the missing 1,500 foot section along Santiago Creek, in the Fisher Park/Floral Park neighborhoods and then turn the grant money over to the City of Santa Ana as a shovel ready deal!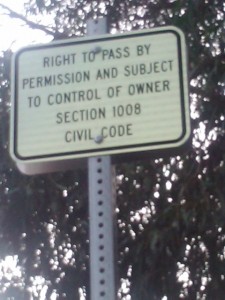 In related news, word has it that the NIMBY's in the Floral Park/Jack Fisher area have had signs installed along the unfinished bike trail (see picture above) that include:
Three signs stating "Right to Pass by permission and subject to control of owner section 10008 civil code" that are placed along the foot path from the 5 Fwy going West on the Trail.
On Baker Street Bridge and on Flower Street Bridge there are signs stating "No camping, no storing of personal property in recreational bike trail area OCCO 2-5-17(a)" NOTE: It is interesting that these signs state "recreational bike trail area" as if currently is an unoffical foot path.
I have also heard from residents in Morrison Park that the Trail Opposition Group has informed them that if a bike trail gets placed between the 5 Fwy and Flower, that the City will also do the same from Flower to the SART along the creek in West Floral Park and will remove the Class 2 Bike Lane on Memory Lane.  This has the MPNA concerned that they will loose their new Class 2 Bike Lane in their neighboorhood.  I think the Trail Opposition Group is spreading misinformation to gain support to resist connecting the bike trail from under the 5 Fwy to Flower.  There is no way that the City of Santa Ana would ever vote to remove the Class 2 Bike Lane on Memory Lane!