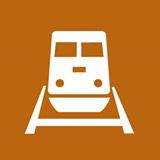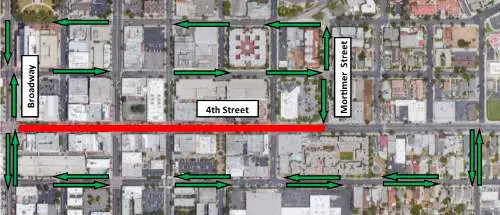 Starting Monday, March 30, 2020, while many businesses on 4th Street are closed to the public, Orange County Transportation Authority (OCTA) will be adding OC Streetcar construction crews during the day and night to replace the water line between Broadway and Mortimer Street. This effort will reduce the time of inconvenience from the OC Streetcar construction significantly. With a 24-hour street closure on 4th Street and crews able to work during the day and night, the construction timeframe will be substantially shorter.
Construction crews will begin work between Main Street and Spurgeon Street and, once the work is completed after approximately one week, will move to work between Broadway to Main Street for approximately one week. Sidewalks will remain open and access to businesses will maintained at all times.
The general daytime work hours for construction activities will be 7 a.m. to 5 p.m., and the general nighttime work hours for construction activities will be 7 p.m. to 7 a.m. Please note, all scheduled activities are weather permitting and are subject to change.
Governor Newsom has issued a "stay at home" executive order to help reduce the spread of COVID-19. Construction of public transportation projects is considered an essential service and is exempt from this order. Work will continue on the OC Streetcar project as scheduled. Safety is our top priority; construction workers will be following all health and safety guidelines.
For up-to-date construction information, please download the OC Streetcar app available in the App Store and Google Play or follow OCTA on Facebook, Twitter, and Instagram. For any questions about the OC Streetcar project, please contact OCstreetcar@octa.net or (844) 746-6272.
To receive OC Streetcar construction notices visit:
http://www.octa.net/Projects-and-Programs/All-Projects/Rail-Projects/OC-Streetcar/?frm=7683#!Construction
Thank you for your patience and understanding during the OC Streetcar construction!