Re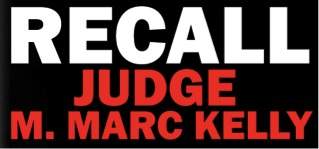 FOR IMMEDIATE RELEASE: Wednesday, April 22, 2015
Contact: Kelsey Eiben 714.676.8879 or 213. 814.2474
OC Board of Supervisors Give Judge Marc Kelly Vote of "No Confidence" & Repudiate His Leniency with a Rapist
All 5 Supervisors Officially Demand Judge Kelly's Resignation
(Irvine, CA)- Tuesday, the Orange County Board of Supervisors unanimously approved in a 5-0 vote, a resolution that rebuked Orange County Superior Court Judge M. Marc Kelly reducing the mandatory minimum sentencing for the sodomy rape of a 3-year old girl on April 3, 2015. The sharply worded resolution highlights the Board's undisputed admonition of Judge Kelly's sentencing decision and the dangerous precedent it sets throughout Orange County's criminal justice system.
"There should be no leniency for child rapists, especially those who sodomize a 3-year old girl. Obviously, Judge Kelly disagrees. Its only a matter of time before Judge Kelly will face the voters in a recall, so he might as well resign immediately," said Bryan Scott, Founder of the Recall Judge Kelly committee.
Click here for the Resolution.
###