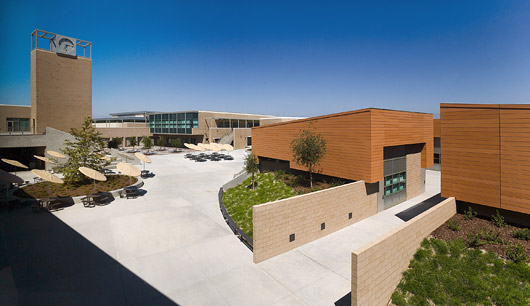 Godinez High has quickly become one of Santa Ana's best schools
Ouch.  The O.C. Register slammed the Santa Ana Unified School District in this year's "Orange County's Best Public Schools: High Schools" report," which was published on Sunday.
In the report, Santa Ana Unified has the bottom four ranked schools, Century High, Valley High, Santa Ana High, and Saddleback High.
But the article didn't tell the whole story.  For one thing, the SAUSD's newest high school, Godinez Fundamental, is quickly turning into a real gem, on a par with Segerstrom High, which received a Bronze Award in the Register's 2010 report.  But Godinez isn't ranked in the report, probably because they are too new.
Two other SAUSD schools also received awards.  The Orange County High School for the Arts was one of five gold medal winners.  OCSHA is a charter school.  Few Santa Ana kids get into the school, but those that do generally excel.
And SAUSD's Middle College High not only won a silver award, but earlier this month, twenty-seven Middle College High School (MCHS) seniors from the Class of 2010 graduated with both a high school diploma from Santa Ana Unified School District (SAUSD) and an associate of arts degree from Santa Ana College (SAC). The graduates receiveed their AA degree from Santa Ana College during a June 3 commencement ceremony at Santa Ana Stadium, followed by their high school diploma in a ceremony on June 17.
Middle College High School (MCHS) is a Santa Ana Unified School District school, located at Santa Ana College. A collaborative venture between the Santa Ana Unified School District (SAUSD) and Santa Ana College(SAC), opened its doors in 1997 with approximately 80 sophomores and a staff consisting of four teachers, a high school counselor, a principal and two classified employees. In 2000 Middle College High School graduated its first class with its valedictorian holding the distinguished rank of valedictorian of the high school and the college.
The bad news?  Only 80 students will be accepted into the 9th grade next year.  Slim pickings, but cream of the crop.
We also have another great charter school, the Nova Academy Early College High School, which recently won the PIMCO 2010 Excellence Award.  They weren't in the Register's report either.  I suspect their campus is also too knew to track yet.
Yes, there are a lot of kids struggling in SAUSD schools, but there are also a lot of kids doing very well.  My three boys all go to SAUSD schools.
My son Joey just finished his junior year at Godinez, where he is the number two ranked student on campus.  He is taking AP level courses. Joey has played on his high school baseball team for three years. He was the closer on his team this year.  In that time he also taught himself how to play the guitar and drums.  He is pretty good!  He can play AC/DC and Led Zep songs, which is good enough for me.
My other boys are younger, but Jimmy did finish intermediate school this year and he is going to be attending Godinez also in the fall.  He too received scholastic awards at the end of the year.  It was telling that SAUSD Trustee Audrey Noji addressed Jimmy and his peers, at their graduation this month, in English, Spanish and Vietnamese.  Santa Ana is changing and there are a lot of Vietnamese students now amongst their Latino peers.
My son Jacob, who is a first grader at John Muir Fundamental Elementary School, also received a slew of awards at the end of the year.
All of my boys received awards in English/Reading.  Jimmy and I both read the same science fiction novels – and he has become a voracious reader.
My daughter graduated from Santa Ana High School, where she also excelled at water polo.  She just finished a two year fashion degree at FIDM, which is a world-renowned art school in Los Angeles.  She finished with a GPA higher than 3.0.  She is now looking for an internship in her industry.
The difference for my kids?  A house full of computers and parents dedicated to reading and to helping them with their studies.  We have always been here for them.
Not all Santa Ana kids are as lucky.  I for one won't criticize their families.  They are poor and struggling to survive.  We live in a city with only one main library and one small external branch.  The libraries are closed on Sunday.  Many kids in town don't have access to the Internet.  Many live in cramped surroundings with no desk to do their homework on.  And many live in single parent homes.
SAUSD has laid off teachers for several years now.  That has really hurt younger teachers.  That is a damn shame as they would have brought new energy to our schools. We have a lot of great veteran teachers but also  a few that, quite frankly, could care less.
I still am not sold on the SAUSD administrators.  Nor do I have much faith in our School Board.  If we are to turn things around it will be up to us.
We need more partnerships with local industry leaders.  We need better administrators with more experience in turning around troubled school districts.  We need more public libraries.  I wrote a position paper when I ran for the Santa Ana City Council, proposing micro libraries that would make use of our empty retail stores, providing computers with Internet access, and space to do homework.  Plus the idea would have included a mobile service that would have delivered books, upon request, from the main library to the micro libraries.
But both the City of Santa Ana and the SAUSD are broke.  So what to do?
I know what I won't do.  I won't pull my kids out of SAUSD schools and put them in private schools, like most of our local politicians have done over the years.  One of our Trustees, Audrey Noji, sent her son to high school in Irvine.  And a candidate for our school board that has run twice, and lost, named Cecilia Aguinaga, took her kids out of public schools and put them in private schools.
We need school board members who will have faith in our schools and in our teachers, and who will be creative and inspired.  We certainly don't have that sort of vision on our School Board now.
But know this – despite all the problems we do have a lot of great kids who are doing well.  We just need to work harder to help the rest of them too.