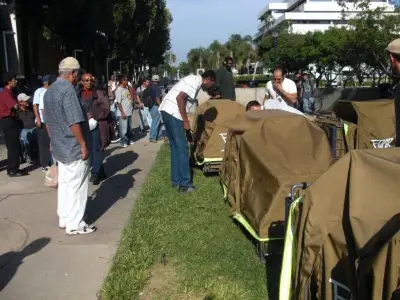 The OC Commission to End Homelessness voted to encourage the Orange County Transportation Authority (OCTA) to give the County and the City of Santa Ana more time to address the city's concerns, with regard to turning a vacant bus station in downtown Santa Ana into a shelter for the homeless, according to the O.C. Board of Supervisors Chairman John Moorlach's blog.
Moorlach wrote that "The original recommendation was simply to encourage the County to purchase the Santa Ana Transit Station.  In an effort to provide good dialogue, I did reach out to Acting City Manager Paul Walters earlier this week to inform him of the agenda item at this morning's meeting (Paul is also a member of the Commission).  You can see from the Voice of OC what happened after the heads up.  For the record, I abstained on the vote because I am on the Board of Supervisors and the Board of OCTA."
Moorlach referenced a Voice of OC article that revealed that Walters had emailed several local residents and business leaders in advance of the meeting, to encourage them to show up at and speak at the meeting, about the city's concerns.
Click here to read the rest of this article.