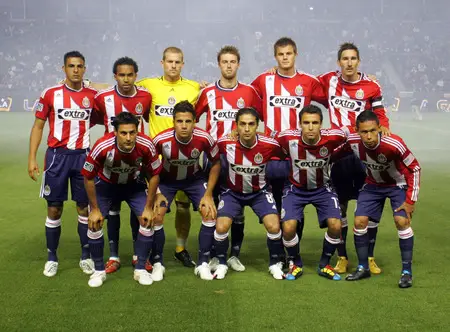 Orange County District Attorney Press Release
For Immediate Release: February 9, 2012
1,200 STUDENTS SCORE CHANCE TO EARN CHIVAS USA SOCCER TICKETS IN KICKOFF OF GANG PREVENTION INCENTIVE PROGRAM
*800 students were surprised at school assemblies today; 400 others were hand-picked from 38 schools
ORANGE COUNTY – Chivas USA will sponsor more than 1,200 elementary and middle school students with an incentive to earn free tickets to a Chivas USA game in an ongoing effort to keep kids in school and out of gangs.
Chivas USA has teamed up with Orange County law enforcement in the Orange County Gang Reduction and Intervention Partnership (OC GRIP), which aims to prevent juveniles from being victims of or participants in gang crimes by identifying at-risk youth, increasing school attendance, and decreasing gang activity.
As an incentive for positive behavior and staying out of gangs, the students have the opportunity to earn tickets to one of two Chivas USA games in March or April 2012 at the Home Depot Center. To earn this reward, the students must meet a challenge of having no unexcused absences, no criminal activity or arrests, no violence or weapons on campus, and no gang-related clothing, writing, or behavior.
Assemblies and Game on April 21, 2012
Chivas USA and OC GRIP held two assemblies today at two Orange schools for 800 kids ages 9 to 13 in grades 4 through 8. The schools were Handy Elementary School and Yorba Middle School.
The students were first greeted by law enforcement officers and prosecutors, who explained the dangers of gang membership and the gang prevention challenge. This included Orange County District Attorney Tony Rackauckas, Orange Police Chief Robert Gustafson, Chief Probation Officer Steve Sentman, and Assistant Orange County Sheriff Mark Billings.
Chivas USA then surprised the unsuspecting students by entering the assembly and offering free tickets and the chance to meet Chivas USA players at the game as an incentive for meeting the challenge. Students cheered as soccer balls, t-shirts, and wrist bands were handed out by Chivas USA co-owner and president of the Red-and-White organization Antonio Cue, Chivas USA midfielders Ben Zamanski and Marvin Iraheta, Chivas USA Director of Soccer Operations Kevin Esparza, ChivaGirls, and Chivas USA mascot ChivaFighter.
Students who successfully complete the challenge will be invited to attend the Chivas USA game against the Philadelphia Union on April 21, 2012. They will be chaperoned by teachers, parents, and law enforcement officers.
Mentor Program and Opening Day Game on March 11, 2012
Principals from 38 OC GRIP and OC GRIP II elementary schools throughout Orange County offered the same challenge today to 10 specially selected at-risk students from each school. Chivas USA will provide almost 800 free tickets to just under 400 students and a parent or guardian each for successfully completing the challenge.
These students and their parent/guardian will be invited to attend Chivas USA's opening day match on March 11, 2012, against the Houston Dynamo. The students will have an opportunity to meet Chivas USA players before the game.
As a special incentive, Mr. Cue, four players, and three Chivas USA executives will announce at the game the names of eight students whom they will take on as mentees for the duration of the school year. Each of the eight students will be pre-selected by a committee of OC GRIP law enforcement and school partners and paired with a Chivas USA mentor. The mentorship will include encouragement and guidance for positive decision making, incentive-driven rewards including additional tickets to future games for the students and their families, and opportunities to visit the team's practice facilities.
"Chivas USA's commitment with our community, and especially with our youth, continues to be one of the organization's priorities. Soccer is not only family entertainment, it is additionally a vehicle and an option to keep our children and youth off the streets, gangs, and criminal activities," commented Chivas USA General Manager Jose Domene on the partnership. "Chivas USA is honored to be a part of GRIP, and will continue to do its part to have our youth more focused on education."
"These programs can only be successful through the work of public-private partnerships. I appreciate that Chivas USA has joined with us in taking an active interest in the future of Orange County kids," said District Attorney Rackauckas. "It is good to see the community rally around our children to make sure they stay out of gangs and on the right track."
"The Orange County Sheriff's Department proudly welcomes Chivas USA to OC GRIP. The collaboration with private organizations is what drives OC GRIP and makes the program a success," said Orange County Sheriff Sandra Hutchens. "The addition of Chivas USA will strengthen OC GRIP now and into the future."
"Through the OC GRIP program, we influence at-risk youth to stay out of gangs and point them in the right direction for life," said Orange Police Chief Gustafson. "I would like to thank the Chivas USA organization for partnering with OC GRIP and offering this great incentive for the kids in the GRIP program at our local schools."
"The Orange County Probation Department is pleased to support the multi-jurisdiction effort to reduce gang crimes by identifying at-risk youth, increasing school attendance, and decreasing gang activity through the Orange County Gang Reduction and Intervention Partnership," said Chief Probation Officer Sentman. "We are excited to see how many students earn the Chivas game reward by successfully completing the challenge."
As a result of OC GRIP programs, many targeted schools have received as much as $30,000 each from the State for increased student attendance. The Orange County Grand Jury recognized OC GRIP as one of the most effective gang prevention programs in Orange County.
County-wide, OC GRIP is composed of eight law enforcement partners including the Buena Park Police Department, Garden Grove Police Department, Orange County District Attorney's Office, Orange County Sheriff's Department, Orange Police Department, Orange County Probation Department, Santa Ana Police Department, Santa Ana Unified School District Police Department and is active in the Cities of Buena Park, Garden Grove, Mission Viejo, Orange, San Clemente, San Juan Capistrano, Santa Ana, Stanton, and unincorporated North Orange County.
In September 2011, OC GRIP II was implemented as an educational component to OC GRIP in the Cities of Costa Mesa, Dana Point, Garden Grove, La Habra, Laguna Hills, Orange, Placentia, San Juan Capistrano, Santa Ana, and Tustin.
###
Contacts:
Susan Kang Schroeder, Chief of Staff
Office: 714-347-8408
Cell: 714-292-2718
Farrah Emami
Spokesperson
Office: 714-347-8405
Cell: 714-323-4486