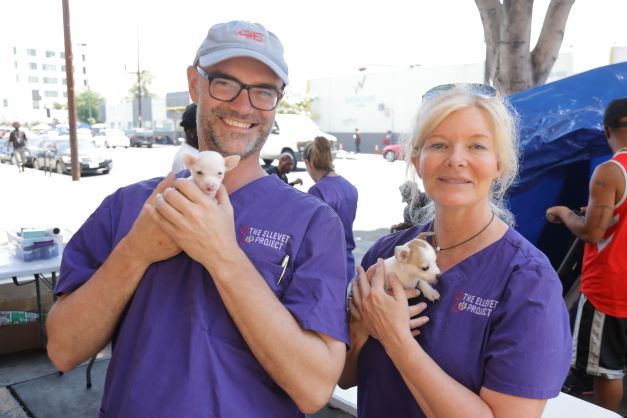 "The ElleVet Project" a national nonprofit mobile relief tour providing much-needed FREE veterinary care and supplies to the pets of the unhoused and low-income communities returns to Southern California.
The mobile relief effort will offer 100% free Veterinary care, vaccinations, supplies, and food to vulnerable pets of the unhoused and low-income communities on:
Thursday, June 8 in Santa Ana at the Yale Navigation Center (2229 S. Yale St.), from 9 a.m.- 2 p.m. PT
Friday, June 9 in Placentia at the Placentia Navigation Center (731 S. Melrose St.) from 9 a.m.-2 p.m. PT
Monday, June 12 in Huntington Beach at the Huntington Beach Oasis (17251 Beach Blvd.) from 9 a.m.-2 p.m. PT
Tuesday, June 13 in Anaheim at the North Harbor (1251 North Harbor Blvd.) from 9 a.m. – 2 p.m. PT
Thursday, June 15 in Los Angeles at the Union Rescue Mission (Skid Row – 545 South Pedro St.) from 10 a.m. – 2 p.m. PT
Friday, June 16 in Riverside at the Riverside Kennel (2880 Hulen Place) from 9 a.m. – 2 p.m.
As The ElleVet Project travels throughout the United States in its branded 32-foot RV dubbed the "ElleVan," the organization collaborates with city officials and municipalities to host a rotating team of compassionate and professional veterinarians to provide free veterinary care to the most vulnerable animals. Community-focused sponsors are again donating medical supplies, food, and assistance to the project. Services include vaccines, flea and tick preventatives, deworming, general checkups, emergency surgeries, and other services as needed. The ElleVet Project is unique because the team travels to vulnerable communities and disaster areas to locate pets that may never have had veterinary care.
The ElleVet Project returns to San Diego for its fourth year. According to co-founder Howland, the nonprofit feels a special connection to the city's people and pets, saying, "we had a wonderful experience working with the local veterinarian community and want to make sure that we can continue to offer extraordinary care to the pets and their owners again this year."
Free services to vulnerable pets cannot come without the generous support of corporate and private donations. More information and donation support for "The ElleVet Project" can be found at https://ellevetproject.org. All Donations go towards vaccines, medical supplies, and emergency surgeries. To see "The ElleVet Project" efforts in action, visit @Ellevetproject Facebook and Instagram.
"The ElleVet Project" was formally established in April 2020 as the 501(c)(3) charitable arm of ElleVet Sciences, the only pet CBD+CBDA in the marketplace proven to work in clinical studies. Founded by Howland and Christian Kjaer, the nonprofit was initially developed as a pilot program in response to COVID-19, knowing the homeless had even fewer resources than usual and their pets were in a very vulnerable position. Since its inception, the team has treated thousands of pets.