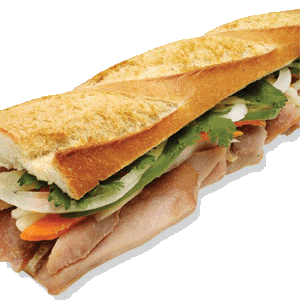 UPDATE: The Lee's Sandwiches in Santa Ana is opening today! They are having a grand opening at 9:30 am, with free samples.  Go try their delicious $3 sandwiches!
They are located at 3350 South Bristol St. in Santa Ana," according to the O.C. Register.  Click here for a map of this new location.
Lee's Sandwiches are served on fresh baked 10-inch baguettes.  The bread is simply unbelievable.  My wife's favorite is the chicken, which is pictured above.  That one includes thinly sliced jalapeno and cilantro.  Santa Ana residents are going to really love these sandwiches!
And these sandwiches cost far less than Subway's offerings, usually about $3 to $4 each.  Other products include delicious iced coffees, pastries and products imported from Vietnam and other Asian countries.
Here is more information about Lee's Sandwiches, from their corporate website:
Lee's Sandwiches is the product of the merging of ideas and family support. Chieu Le, the founder, came to America and settled in San Jose, CA in 1980. He began taking adult education classes to study English and frequently bought food from a catering truck before and after class. Seeing the potential of a portable food service vehicle, Chieu Le worked on a catering truck to better understand the business. By 1981, he bought his first catering truck and started his route around San Jose.
Chieu Le saw more potential in the catering truck business. He saw the need for trucks to have a place to park and clean their trucks with access to easily restock food and ice. The idea developed into Lee Bros. Foodservices, Inc, which him and his younger brother Henry Le developed in 1982. They chose the name "Lee" so it would be easily pronounced.
Within time, they created the largest industrial catering company in Northern California; serving more than 500 independently owned and operating catering trucks at one time.
In 1983, Chieu's parents, Ba Le and Hanh Nguyen, started serving banh mi, Vietnamese style sandwiches from their catering truck by San Jose State University to the students and residents in the area. It became an instant hit among the community. Wanting to create a more permanent location and expand the options for their patrons, they opened the first Lee's Sandwiches location on Santa Clara Street.