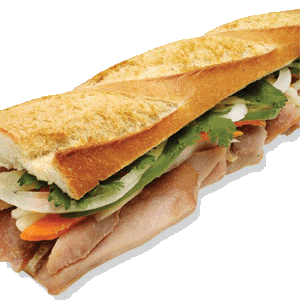 UPDATE: The Lee's Sandwiches in Santa Ana is opening today! They are having a grand opening at 9:30 am, with free samples.  Go try their delicious $3 sandwiches!
They are located at 3350 South Bristol St. in Santa Ana," according to the O.C. Register.  Click here for a map of this new location.
Lee's Sandwiches are served on fresh baked 10-inch baguettes.  The bread is simply unbelievable.  My wife's favorite is the chicken, which is pictured above.  That one includes thinly sliced jalapeno and cilantro.  Santa Ana residents are going to really love these sandwiches!
And these sandwiches cost far less than Subway's offerings, usually about $3 to $4 each.  Other products include delicious iced coffees, pastries and products imported from Vietnam and other Asian countries.
Here is more information about Lee's Sandwiches, from their corporate website: Continue reading→