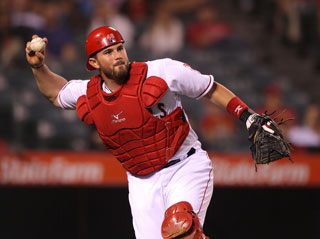 Bobby Wilson of the Los Angeles Angels of Anaheim to Visit OC Zoo
Park visitors wearing Angels gear July 7 get free entry to the OC Zoo and half-price train rides.
by Marisa O'Neil, Public Information Officer on 6/27/2012
OC Parks and the Los Angeles Angels of Anaheim have teamed up to provide children and families with a wonderful event.  On Saturday, July 7, at 11 a.m., Angels catcher Bobby Wilson will make a special appearance at the OC Zoo and all visitors wearing Angels gear will get in free. In addition, all visitors wearing Angels gear will get half price rides on the train at www.irvineparkrailroad.com. Both offers are good all day long.
Wilson and his family will visit the OC Zoo, take part in a special animal presentation with OC Zoo animal keepers and stay to take photos with guests. Families are invited to visit the zoo, meet Wilson, learn first-hand about his career in the majors, and take photos with him. As many guests as possible will be allowed to meet and take pictures with Wilson, however, only the first 100 will be guaranteed spots at the animal presentation and photos with the Angels catcher.
Wilson is in his third full season with the Angels. Last year he handled an amazing 266 total chances in the field while committing only one error. This gave him an outstanding fielding percentage of .996 for the season. In addition, Wilson was behind the plate when Ervin Santana pitched his no-hitter on July 27, 2011.
The OC Zoo is located inside beautiful Irvine Regional Park in the city of Orange. The zoo is nestled among the oak trees at this 477 acre park, California's first regional park.
The zoo focuses on animals and plants native to the southwestern United States. Animals on exhibit include black bears, mountain lions, bald eagle, island fox, ocelot, red-tailed hawks, great horned owls, coyotes, turkey vultures, coati and more. The zoo also features a Children's Zoo with domestic goats, sheep, rabbits, doves and pheasants.
Irvine Park Railroad, founded in April 1996, is a one-third scale train that takes both children and adults on a scenic ride through historic Irvine Regional Park. Other attractions at the park include the paddleboat and bike rentals, pony rides, hiking trails and more.
Angels at the OC Zoo
Date: Saturday, July 7
Time: Zoo opens at 10:00 a.m. Presentation begins at 11:00 a.m. Saturday Zoo hours 10 a.m. to 4:30 p.m.
Location: OC Zoo
Address: 1 Irvine Park Road, Orange, CA 92869
Contact: (714) 973-6847
Cost: Free zoo admission for every visitor who wears Angels gear. All others $2 per person ages 3 years and over; Ages 2 years and under are free. Also half-price rides on the train at Irvine Park Railroad.
Parking: $5 per vehicle
###