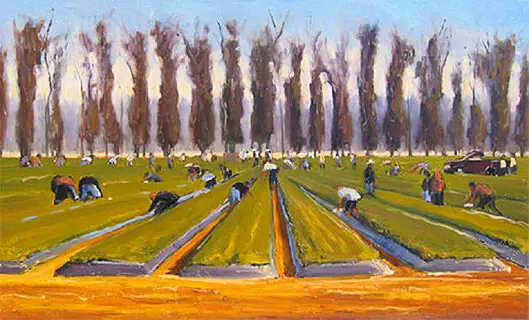 Trabuco Harvesters by Mark Jacobucci
FOR IMMEDIATE RELEASE: January 11, 2012
Contact: Jenny Wedge, (949) 252-5182 (office), jwedge@ocair.com
ARTIST MARK JACOBUCCI FEATURED IN COMMUNITY FOCUS SPACE PROGRAM AT JOHN WAYNE AIRPORT
SANTA ANA, Calif. – A selection of paintings by Laguna Beach artist Mark Jacobucci will be on display through January 30, 2012 in the Thomas F. Riley Terminal as part of John Wayne Airport's Community Focus Space Program. His artwork can be seen on the departure (upper) level near the security screening areas and on the arrival (lower) level near baggage carousels 1 and 4.
Jacobucci's paintings are primarily landscapes: beaches, coastlines and rural scenes. "Often I try to see and paint the beauty in an ordinary everyday scene, such as an alleyway or a street intersection," said Jacobucci.
The JWA exhibition will feature seven oil paintings depicting playing, working and driving around in Orange County.
Known for using vibrant colors, large brushstrokes and plein air methods, Jacobucci gives a contemporary flair to his paintings. He studied painting in high school on Cape Cod, Massachusetts, attended Brandeis University for his Bachelors of Arts Degree and the University of Massachusetts, Amherst, earning a Master's of Liberal Arts Degree (MLA).
After receiving his MLA in Landscape Architecture in 1984, Jacobucci came to California the following year to work in the profession at an internationally acclaimed design firm in Laguna Beach. He continued to paint and sketch and took painting classes at the Laguna College of Art.
Jacobucci's work is displayed in various exhibitions including the Festival of Arts in Laguna Beach since 2001, and is held by numerous private collectors and corporations. Corporate collectors include: The Hyatt Hotels, Irvine Company, Irvine Apartment Communities, Peralta Partners, McDermott Will & Emery, Transtar, Corrigan Law, Coffee Architects, Broadcom, and Union Bank.
To learn more about JWA's Community Focus Space Program, visit www.ocair.com/terminal/art.
About John Wayne Airport:
John Wayne Airport (SNA) is owned by the County of Orange and is operated as a self supporting enterprise that receives no general fund tax revenue. The Airport serves approximately nine million passengers annually, reaches 20 non-stop destinations in the United States and Canada and is served by 10 commercial passenger airlines. More information can be found at www.ocair.com.
# # #
You can access JWA news releases at www.ocair.com/newsroom/news
Update your subscriptions, modify your password or e-mail address, or stop subscriptions at any time on the User Profile Page. If you have any questions or problems with the subscription service, e-mail support@govdelivery.com for assistance. Inquiries specific to John Wayne Airport should be directed to jwedge@ocair.com.
This service is provided to you at no charge by the County of Orange, California. Visit the County of Orange on the web at www.ocgov.com and John Wayne Airport (SNA) at http://www.ocair.com.