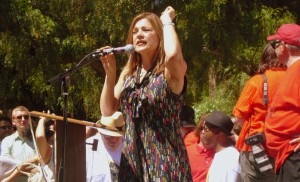 Congresswoman Loretta Sanchez, Representing California's 47th Congressional District
PRESS RELEASE, FOR IMMEDIATE RELEASE: January 11, 2012
MEDIA CONTACT: Adrienne Watson 202-309-0825
SANCHEZ RELEASES STATEMENT ON NATIONAL HUMAN TRAFFICKING AWARENESS DAY
WASHINGTON, D.C. – Congresswoman Loretta Sanchez (CA-47), a member of the Congressional Caucus on Human Trafficking, today released the following statement acknowledging National Human Trafficking Awareness Day.
"Today and every day, we fight to raise awareness of human trafficking around the world," said Sanchez. "This is more than a criminal justice issue. It is a struggle for the lives and dignity of innocent men, women and children who are forced into slavery. Trafficking in persons is one of the largest illegal trade businesses around the world. Women and children make up eighty percent of those trafficked.
"Today let us acknowledge the countless victims of human trafficking and strengthen our efforts to eradicate the world of this tragic abuse of human rights. I commend the work of the Orange County Human Trafficking Task Force and other human trafficking groups who work tirelessly toward reversing this growing trend. Each of us has a responsibility to fight human trafficking and slavery. I remain committed to strengthening our nation's ability to eradicate human trafficking, and believe drawing attention to its existence is an important step in that direction.
"I encourage everyone in our communities and our neighborhoods to work together to identify and assist those among us who may be victims of human trafficking. With increased awareness and assistance from community efforts, we can begin to help those who so desperately need it."
Congresswoman Loretta Sanchez is proud to represent California's 47th Congressional District, which includes the cities of Anaheim, Garden Grove, Santa Ana, and parts of Fullerton in Orange County. She serves as Ranking Member of the House Armed Services Subcommittee on Strategic Forces and a senior member of the Committee on Homeland Security. Rep. Sanchez is also a member of the fiscally conservative Blue Dog Coalition and sits on the bipartisan, bicameral Joint Economic Committee.
# # #
United States House of Representatives
1114 Longworth House Office Building • Washington, DC 20515
Phone: 202-225-2965 • Fax: 202-225-5859