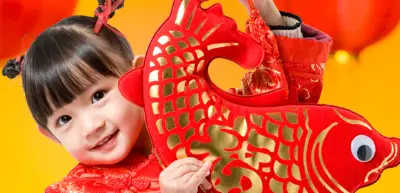 January is a time filled with traditions. During this month's Family Fun Days, at the Westfield MainPlace Mall, they'll explore how other cultures celebrate the New Year and read classic folktales. They have chosen great books that capture some of the most wonderful traditions.
Join them for stories, snacks, and crafts on these dates in January:
Thursday, January 12, 4:00 p.m., in Playtown
Thursday, January 19, 4:00 p.m., in Playtown
Thursday, January 26, 4:00 p.m., in Playtown
PDF of other upcoming family events and promotions coming soon!  For more information, visit our website at www.westfield.com/us/wfamily/fundays.
Sign up today to start enjoying news, events and offers from Westfield. Or just enter your email address to manage your existing subscriptions.
Family Fun Days at Home:
1. Clean It Up In The New Year: You're never too young to make a change and make a difference.  Find some time to clean out your children's closet, toy chest and book case.  Have your child make a pile of things that they are ready to give away and talk to them about how they are helping others.
2. Resolutions You Can Keep: Many kids, often imitating their parents, use the New Year as an opportunity to declare a fantastic resolution. That part may be easy for a child, but keeping the resolution is usually very difficult, because most kids make their resolutions based on a result for which they wish, rather than one they are able to achieve. Help your child make resolutions they can keep.
3. Chinese New Year:  Go celebrate!  Almost every major city has a Chinese New Year celebration — find out what is going on near you and take the kids to enjoy something new and different.
4. Traditions: This month Westfield Family will read books about traditions from around the world.  Try creating your own tradition with your family…it can be as simple as a special walk to a wishing tree or claiming one day a year to not get out of your pajamas.
5. Wishes Can Come True: Have your child decorate an empty coffee can with images of what they wish for. Then, cut a slot in the lid that's large enough to accommodate coins and folded bills. Make the first deposit to get them started.