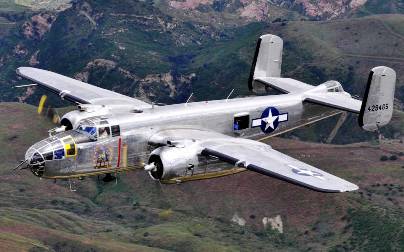 SANTA ANA, Calif., March 22, 2012 – The Doolittle Raid comes to life on Saturday, April 21 at Orange County's John Wayne Airport when the Lyon Air Museum's B-25 bomber "Guardian of Freedom" roars into the air at noon as part of a program about the famous World War II bombing mission. The event begins at 10:30 AM with a presentation and book signing by author Jonna Doolittle Hoppes, the granddaughter of the famous Doolittle Raid leader, Jimmy Doolittle.
70 years ago, on April 18, 1942, eighty men and sixteen North American B-25 bombers launched off the USS Hornet aircraft carrier, on an ambitious one-way mission to bomb Tokyo and other targets in Japan. The perilous assignment, flown by members of the US Army Air Force and supported by the US Navy, was lead by then Lieutenant Colonel James H. Doolittle. In honor of the 70th anniversary of the Doolittle Raid, Lyon Air Museum has scheduled a flight of its own B-25 Mitchell bomber – "Guardian of Freedom," weather and mechanical considerations permitting.
In addition to the B-25 flight, Lyon Air Museum welcomes guest speaker, Jonna Doolittle Hoppes. As the granddaughter of General Jimmy Doolittle, she will share with museum visitors her grandfather's heroic story and will sign copies of her book, "Calculated Risk," a biography/memoir. As a writer, her lecture series keeps her busy touring the United States and Europe, especially with the recent release of another book titled "Just Doing My Job," a collection of 19 stories from World War II, which will be available as well. Jonna works for the Department of Defense at Los Angeles Air Force Base and has appeared on numerous television programs, including the History Channel.
Lyon Air Museum represents the fulfillment of a dream of founder General William Lyon. He held the position of Chief of the U.S. Air Force Reserve from 1975 to 1979 and is currently Chairman of the Board and CEO of William Lyon Homes, Inc., Newport Beach, Calif. His passion for aviation history and youth education is the driving force behind Lyon Air Museum. In establishing the museum, General Lyon sought to create a world-class facility that would be available to the local community and would offer educational displays to inspire young people. The museum has on exhibit some of the world's rarest operational historic aircraft and vehicles.
Lyon Air Museum is located at 19300 Ike Jones Road, Santa Ana, CA 92707.
Also, dont' miss the BMW Cars and Cockpits event on April 1.  Join SoCal 8's Car Club and others at Lyon Air Museum for BMW Cars & Cockpits. BMWs will be displayed in the parking lot and can be viewed for free! Those who wish to display a vehicle can do so free of charge and should arrive at 9:30am
P: 714/210-4585. F: 714/210-4588.
Email: info@lyonairmuseum.org. Web: www.lyonairmuseum.org.
Hours of operation are daily from 10 a.m. to 4 p.m. Admission rates: General admission–$12; Seniors and Veterans–$9; Ages 5-17–$6; Under age 5—Free. Groups of 10 or more–$1 off each visitor. Pre-arranged school groups—Free. Please call for event pre-sale tickets.
Media Contact:
Corrin Quezada
Lyon Air Museum
714/210-4585