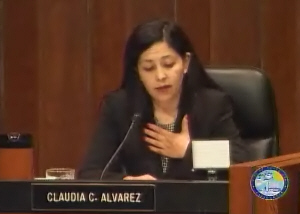 An Orange County Superior Court judge has ruled that Santa Ana City Councilwoman Claudia Alvarez may not run for a fourth council term, according to the Voice of OC.  I have also confirmed this with my own sources – Alvarez' political career is over – or is it?  She can still run for Mayor of Santa Ana, although that is not likely as Mayor Miguel Pulido supported her attempt to run again.  And she could run for the Santa Ana Unified School District's Board of Education, or for the Rancho Santiago Community College District's Board of Education. 
The unfortunate side affect of this ruling is that it decreases the chance that an opponent to Pulido will arise.  If someone does challenge him then Alvarez will likely run for Mayor and count on a vote split putting her in office, particularly if one of her male colleagues opts to run against Pulido.  Her defeat in this lawsuit likely means Pulido will sail to an easy victory in November.
Alvarez remains a very popular politician in Santa Ana but the Usual Suspects certainly hate her.  They have hated her ever since she beat one of their own – Nancy Lutz. 
Alvarez was instrumental in getting rid of former City Manager Dave Ream.  She also helped rid City Hall of most of the Usual Suspects who served on our City Commissions.  And she helped force many of Ream's lieutenants out as well.
With Alvarez out it is likely that SAUSD Trustee Roman Reyna will file his nomination papers for Ward 5 next week.  He will face off against young newcomer Karina Onofre, who became a Republican when disgraced Council Member Carlos Bustamante convinced her that it was a good idea to join the GOP.
With Reyna's exit from the SAUSD Board, there is now one open seat to run for.  Two incumbents are running – Rob Richardson and Jose Alfredo Hernandez.  There are two challengers so far – Sergio Verino and Valerie Amezcua (more on her in a subsequent post).