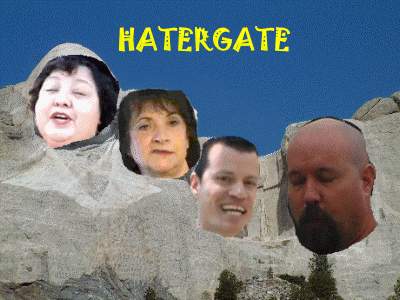 Hatergate: How Council Member David Benavides ended up honoring the Minutemen in July, 2010
By: Art Pedroza
It started out innocently enough.  The City of Santa Ana didn't have the budget to put on their own 4th of July event, back in July of 2010, so they allowed a group of residents to put on their own event – and the City's Parks and Recreation Agency let them use the Santa Ana Public Library, over in the Civic Center, to stage the event.
It made sense I suppose to have a Library Commissioner run the show.  She was also at the time heading up the Friends of the Library.  But upon closer scrutiny, there was a major problem. The lady in question was Lupe Moreno, a notorious Minuteman. These are folks who absolutely hate immigrants and who have been accused of hate crimes.  When Moreno found herself needing more volunteers it was her Minutemen friends who got the call.
To tell the rest of the story, here are a few excerpts from an article by the Immigration Clearinghouse:
The celebration was not sponsored by the city, but by the Friends of the Santa Ana Public Library and a nonprofit group that offers classes on the Constitution. One of the lead organizers was self hating Latina and rabble-rouser Lupe Moreno, a member of the library group and who is also a prominent anti-immigration activist who is in ass deep with the Minuteman Project.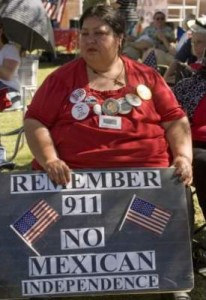 Moreno and her sister were speakers at a June 5 Tea Baggers rally in Phoenix to support Arizona's draconian new anti immigrant law SB-1070, where they inflamed the crowd with some concocted story of how their lives had been destroyed by an alleged illegal immigrant.

Her presence at the festival drew activist Naui Huitzilopochtli, who films anti-immigration rallies. He stopped at a table where Yorba Linda residentGary Hynds and his wife Anita, were selling soft drinks and assorted junk. His wife Anita also appears to be a "birther" and a whack job who has the solution for Arizona She also calls for our Presidents impeachment, They Hynds have also been connected to nativist whack jobs and border vigilantes Jeff "Bikini Boy" Schwilk, Ray Herrera and others, calling themselves the SoCalPatriots.

Naui's video doesn't show how the exchange of words began; both he and Hynds say the other shouted first. The video clip begins with Huitzilopochtli asking: "How do I look like?" Hynds looks up from a book he is reading and says, "A wetback."

As the pissing match heats up, Huitzilopochtli calls Hynds "the true wetback"; a friend with Huitzilopochtli calls Hynds a "f*cking white guy." Then they ask Hynds: "You think all these people are 'wetbacks' too?" Hynds looks at the camera and says, "Yeah."

With four-letter words flying from both sides, Hynds also calls Huitzilopochtli's friend a "wetback motherf*cker."

Moreno the called the SAPD and and she filed a false police report against Naui and to follow it up, she then wrote a letter to the Santa Ana City Council, further libeling Huitzilopochtl and urging others to do the same.
Hynds acknowledged in a brief phone interview with the O.C. Register that he had used the word and said: "That's my opinion."
I spoke to Benavides about this when he visited the Orange Juice blog radio show that I used to host, and he said he had no problem working with Moreno.  After the show he said that she is a Christian and he feels he must work with everyone.  Well, I don't know how you can work with someone who has so much disdain for so many of the residents of our city.
Benavides disagreed – and he honored Moreno and her cohorts, although the rest of the City Council wisely passed on that opportunity.
Here is how the Register described what happened next:
The councilman who had proposed that honor, David Benavides, brought it back up this week. This time, Mayor Miguel Pulido and Councilwoman Claudia Alvarez left the meeting. The only other council members who were there – Sal Tinajero and Vincent Sarmiento – distanced themselves from the recognition because of Moreno's involvement and the video of Hynds.

"What we do here is a reflection on the entire council," Sarmiento said. "Sometimes (people) are not deserving of recognition because they are hate-filled, they are intolerant, they are hostile."

Benavides went ahead with the recognition. He later described the video clip as "disturbing" and said Moreno's views are a "polar extreme" from his. But, he said, "It was a good event. … I think it was the right thing to do to recognize those who, with pure intent, put together the event as volunteers."
Moreno acknowledged this in a letter you can read here, where she wrote:
It has made the local paper, only because one of the councilmen was going to give certificates to those on the committee including me. The whole Santa Ana city council walked out, because of my stand against illegal aliens.
Benavides however did not walk out.  He honored Moreno.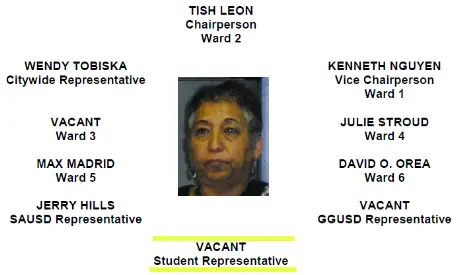 The Santa Ana Parks and Recreation Commission later honored Moreno again, which you can read about here.  That effort was led in part by Benavides' Parks and Rec Commissioner at the time, Julie Stroud, a Republican.
After all the scandal that erupted in 2010, you would think that Benavides would have learned his lesson.  However this year he and Council Member Carlos Bustamante were the only Council Members to attend the 2012 Santa Ana 4th of July event, and once again Moreno was front and center, as seen in this picture, which was taken at the event: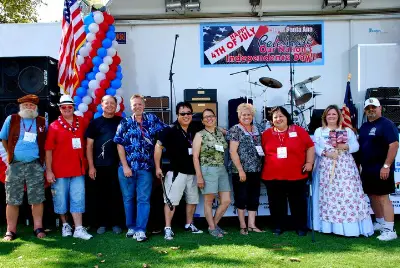 Bustamante was arrested the week after this event.
It should be noted that Benavides was endorsed by Republicans and other anti-Latinos when he first ran for the City Council, six years ago, including:
OC GOP Central Committee member Tim Whitacre, who ran the failed campaign for Sheriff, of Mexican-basher Bill Hunt, in 2010.
Republican Councilman Carlos Bustamante, who was tossed off two State Commissions after his infamous "waterbra" comments and who was recently arrested after being charged with felony sex crimes.
Former SAUSD Trustee Rosie Avila, a Republican and past member of the OC GOP Central Committee who challenged Congresswoman Loretta Sanchez – but lost to her fellow Mexican-hater, Tan Nguyen.  She ran again in a later race and Sanchez finished off her political career.
Ousted City Commissioner Glen Stroud, a Republican.
Glen's wife Julie Stroud, who Benavides appointed to the Parks and Recreation Commission even though she does not live in his ward.
Debbie McEwen, the Mexican-hater who erected barricades in French Park, to keep Mexicans out, only to get sued by the ACLU.  The barricades came down!
Otto Bade, a Republican who once challenged Lou Correa – and lost
Art Lomeli, a Republican resident of Orange Park Acres who worked on Al Amezcua's failed mayoral campaign and is now working on Benavides' mayoral campaign.
Benavides has been asserting that he represents some kind of revolution, but in truth he would be a step backwards for our Latino residents – particularly our immigrants.  It is a certainty that if he became our Mayor he would quickly appoint his racist friends to the City Commissions they were previously booted from.  For Benavides it would be business as usual…