Two lame Huntington Beach Councilmembers, Connie Boardman and Joe Shaw (both Democrats) have sued to stop a beach party that is sponsored by the State of California – and will be held at the Huntington Beach State Beach on September 14, 2013.  The lawsuit has no merit as the beach belongs to the state, and by extension to us.  If you have nothing better to do on the 14th I encourage you to go have fun at this party and stick it to the H.B. Council party poopers, who sued the event promoter even though the event will be safe, with plenty of state police and security guards, and proceeds will benefit a charity for sick children.  It is pretty obvious that Shaw and Boardman just want to keep minorities out of Huntington Beach.
Here are the details about Wet Electric: The original creators of the waterpark music festival and pool party are returning to Southern California with the ultimate daytime music festival. This years Wet Electric is an extra special one as we will be hosting our event right on the beautiful sandy beaches of Huntington State Beach. This will be the biggest and most memorable 21+ event of the summer! On September 14, WET ELECTRIC will produce an engaging festival and beach party experience with two massive stages, world renowned artists and DJ's from around the world, huge inflatable waterslides, zip lines, art installations, sand scultptures, elevated luxury cabanas and VIP areas, fully stocked bars, tasty food and beverage options, vendor village and much more.
WET ELECTRIC is a truly unique experience as it combines music, waterslides, wavepools and an unbelievable vibe.This years artists include Erick Morillo, Chris Garcia, Tony Arzadon, and many more to be announced in the coming weeks. Past Wet Electric artists include Eric Prydz, Dada Life, Arty, Swanky Tunes, Robbie Rivera, Sharam, Chris Lake, Eddie Halliwell, The Crystal Method, Paul Oakenfold, Lil Jon, Bad Boy Bill, Richard Vission, EC Twins, Christopher Lawrence, Marcus Schossow, Darude & many more.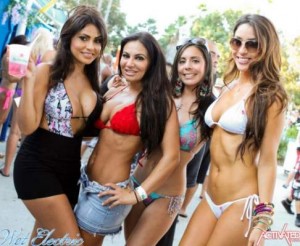 This will be one Wet Electric you won't want to miss! THANK YOU, our loyal fans who have participated over the years and for helping making Wet Electric possible!