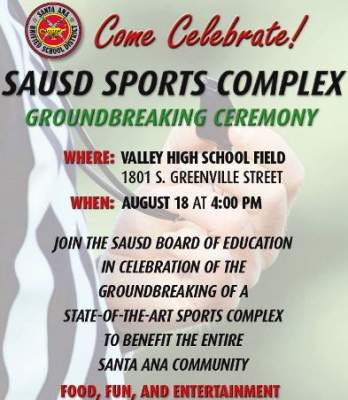 Contact: FOR IMMEDIATE RELEASE: August 15, 2014
Deidra Powell, Chief Communications Officer , (714) 558-5555 Office, (714) 673-4995 Mobile
Media Advisory: Groundbreaking for Highly Anticipated SAUSD Sports Complex
What: Celebrate the groundbreaking of the highly anticipated Santa Ana Unified School District Sports Complex. Thanks to the passage of Measure G, a facilities improvement bond to construct and maintain the condition of the district's school facilities, students in the city of Santa Ana can finally have a sports complex to call their own. Although the Sports Complex is located on the grounds of Valley High School, it will be jointly used by all of the district's high schools.
Who: Members of the SAUSD Board of Education, Superintendent, Elected Officials (State, County, and City), students, athletes, coaches, parents, and community members.
When: Monday, August 18, 2014 at 4:00 p.m.
Where: Field area of Valley High School
1801 South Greenville Street in Santa Ana
Photo Ops: Cheerleading squads, mascots, and players representative of all the high schools in their school colors during spirit rally prior to the ceremony. Ray Caruthers, Valley High School Graduate of 1963 and Silver Medalist USA Olympics, High Jump. Members of the Board of Education with hard hats and shovels to commemorate groundbreaking.