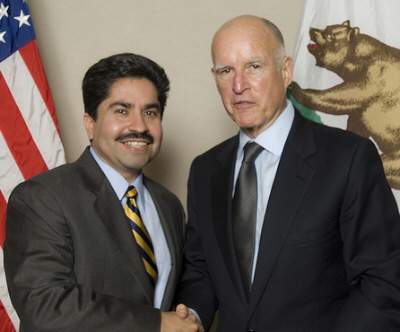 For Immediate Release: October 9, 2014
For More Information Contact: Maria Unzueta – mobile: (657) 464-4742
GOVERNOR JERRY BROWN TV AD IN SUPPORT OF JOSE SOLORIO STATE SENATE CAMPAIGN HITS AIRWAVES
Television Commercial Highlights Solorio's Strong Support Of Governor's Effort To Control State Spending, Protect Prop. 13, & Keep Property Taxes Down
SANTA ANA – A television commercial featuring Governor Brown and his support of Jose Solorio's campaign for State Senate hit the airwaves today. The ad features a personal appeal by the Governor to send Solorio back to Sacramento to assist him.
"Jose Solorio was one of my closest allies in stopping out of control spending," says Governor Brown in the 30 second campaign commercial. "He voted to protect Proposition 13 and keep property taxes down."
"He is somebody I need in Sacramento," continued Brown. "Please vote for Jose Solorio this November.
"I am proud and thankful of Governor Brown's support for my election effort," said Jose Solorio. "He has worked hard to turn our state around and has done an excellent job. I look forward to returning to the State Capitol to continue to assist him and his effort."
The TV commercial can be seen at SolorioForSenate.com. A similar radio commercial featuring the Governor and his support for Solorio can also be heard at SolorioForSenate.com.
The 34th district includes all or parts of the communities of Anaheim, Fountain Valley, Garden Grove, Huntington Beach, Long Beach, Los Alamitos, Midway City, Rossmoor, Santa Ana, Seal Beach and Westminster.
Jose Solorio is the President of the Board of Trustees for the Rancho Santiago Community College District, which oversees Santa Ana College and Santiago Canyon College, and represents 700,000 residents in the cities of Anaheim, Garden Grove, Irvine, Orange, Santa Ana, Tustin, and Villa Park. Prior to that, he represented the cities of Anaheim, Garden Grove and Santa Ana in the State Assembly for six years. He holds a bachelor's degree from UC Irvine and a master's degree in public policy from Harvard University. To learn more about Jose Solorio and his State Senate Campaign, please visit www.SolorioForSenate.com, Facebook.com/Solorio4California, and/or Twitter.com/JoseSolorio.
###